'Parents often ask me to recommend reading books that they could buy for use at home . . . I would definitely recommend this series'
Clare Kirtley, teacher, Educational Author and Consultant.
This fully revised Read at Home series of books from Oxford - Read with Biff, Chip & Kipper - feature the same much-loved characters from the Oxford Reading Tree that are so familiar in schools. Excellent value these sturdy little hardbacks will survive the toughest of treatments. The series offers two important pathways to learning to read: First Stories and Phonics, and are an essential companion for children in the early stages of learning to read with parents at home. The lively stories and humorous illustrations in the books help parents to support their child's development as a reader at home, complementing what they are learning at school. Each of the strands are created by reading experts and based on current teaching practice.
First Stories: fun, motivating stories to introduce new readers to common words and everyday language and
Phonics*: enjoyable and entertaining stories which enable children to practise their letters and sounds.
There are also some Word and Alphabet Games Flashcards, perfect for any time and any place.
Enjoyment is an important element of becoming a reader. Stories with Biff, Chip & Kipper are not only entertaining and exciting, but each story has been specially written to support children's reading at home.
There are hints and tips in every book to stimulate ideas for parents to use with their child and puzzles and activities to encourage the child to look for detail and practise their reading skills. The series is carefully graded with six age-ranged levels with gradual progression and vocabulary repetition throughout to help build reading confidence.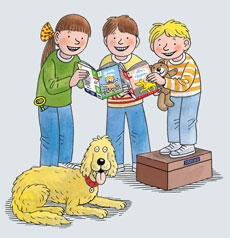 * - Oxford's phonics resources received in March 2011 Department for Education approval.
Each of the levels for Read with Biff, Chip & Kipper matches and complements those used for the Oxford Reading Tree series.
Level One – Getting ready to read – Age 4/5
Level Two – Starting to read – Age 4/5
Level Three – Becoming a reader – Age 4/5
Level Four – Developing as a reader – Age 5/6
Level Five – Building Confidence in Reading – Age 5/6
Level Six – Reading with Confidence – Age 5/6
For even more support and advice for parents in helping children learn to read, head to Oxford's specially created website – www.oxfordowl.co.uk. There's plenty for kids too including lots of fun games and activities with Biff, Chip & Kipper.