Science
Science should be exciting for young people, giving them skills and opportunities to improve their futures. Here are a selection of books we love, books we think will inspire every child to become more interested in Science.
This Month's Featured Science Books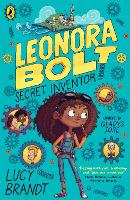 5+ readers
7+ readers
January 2022 Debut of the Month | Inventors don't come much more inventive than young Leonora Bolt. In her home on remote Crabby Island, shared with her otter Twitchy, eccentric housekeeper Mildred and (occasionally) with her nasty Uncle Lester, Leonora comes up with all sorts of amazing gadgets and most astonishing of all is the Switcheroo, which can make objects swap places, via a nifty bit of quantum computing. Despite her brilliance, Leonora has never yet left the island and Uncle Luther seems determined to keep it that way. When a boy called Jack is washed up though, Leonora has to help and in the process she discovers secrets her uncle was keeping (we knew he was a bad un!). The story is full of fun and surprises, plus a fair bit of tension: will Leonora escape the island and Uncle Luther? Were her parents really lost at sea? Favourite scenes include a ride in a hot air balloon, suspended from a wonderful variety of inflatables, and another in the stinkiest cave in fiction. Lots of fun, this is one to recommend to readers who like their adventures wild, wacky and full of invention(s).

7+ readers
9+ readers
Who doesn't wonder how their brain works? This book gives you a guided tour of the human brain (and some animal ones), explaining in brightly illustrated pages what the brain does, and how, demonstrating functions of the cerebellum, the brainstem, the cerebrum and the different lobes (frontal, parietal, temporal, occipital). The information is clearly presented via perfectly pitched text and illustration and is thoroughly engaging, accessible and stimulating. There are tests to try out yourself and ingenious representations of new scientific understanding of the brain. It finishes with a look into the future and what might be next for neuroscience and, having read this, lots of youngsters will be eager to keep learning more.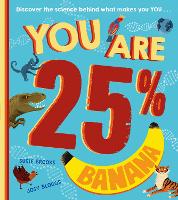 5+ readers
7+ readers
From its attention-grabbing title to its lively, inclusive illustrations, this is a book which will instantly attract young readers to pick it up and, once opened, they will be completely engaged by this first-rate explanation of genetics. The concept of every individual thing having its own recipe is one that is firmly anchored in what young children can understand from their own lived experience and the facts are quite literally mind-boggling and certainly added to my own knowledge. It had (foolishly) never really occurred to me that we would have genetic links to plants or that a grain of rice could have more genes than a human being. Explaining about "bossy" dominant genes, and what genetic characteristics we share with other creatures and then what percentage we share (99 % with chimps of course) leads to an understanding of how alike we all are- we are 99.9% identical to every other human on earth and yet we are all uniquely ourselves. This is not just an important scientific concept beautifully explained, but, through words and images, it carries the message of understanding, empathy and tolerance for others. An essential addition to school and home libraries.
Other Science Books
Filter:
Baby and Toddler
3+ readers
5+ readers
7+ readers
9+ readers
11+ readers
13+ readers
YA readers
Indie Author Books
CHECK OUT OUR INDIE AND SELF PUBLISHED BOOK REVIEW AND PROMOTION SERVICE
Read More
×