WBD director Kirsten Grant: "World Book Day is all about spreading the joy of reading to every young person in the country. We're incredibly proud to be celebrating our 20th anniversary, and what a fantastic time we've had. As ever, our aim is to deliver some of the very best authors and illustrators direct to thousands of children across the country."
World Book Day is a celebration! It's a celebration of authors, illustrators, books and (most importantly) it's a celebration of reading. In fact, it's the biggest celebration of its kind, designated by UNESCO as a worldwide celebration of books and reading, and marked in over 100 countries all over the world.
And you can catch your favourite World Book authors and this year's book show, The Biggest Book Show on Earth, which will run from 26th February to 3rd March. More than 30 authors including Clare Balding, Abi Elphinstone, Tracey Corderoy, Tom Fletcher and Frank Cottrell-Boyce will visit venues in Dublin, Oswestry, Aberystwyth, Doncaster, Brighton and Newcastle. Find out more here!
--------------------------------------------------
Over 15 million World Book Day tokens will be distributed in schools. When you get your token take it to your nearest participating bookshop (find your nearest here!) and swap it for one of these great books!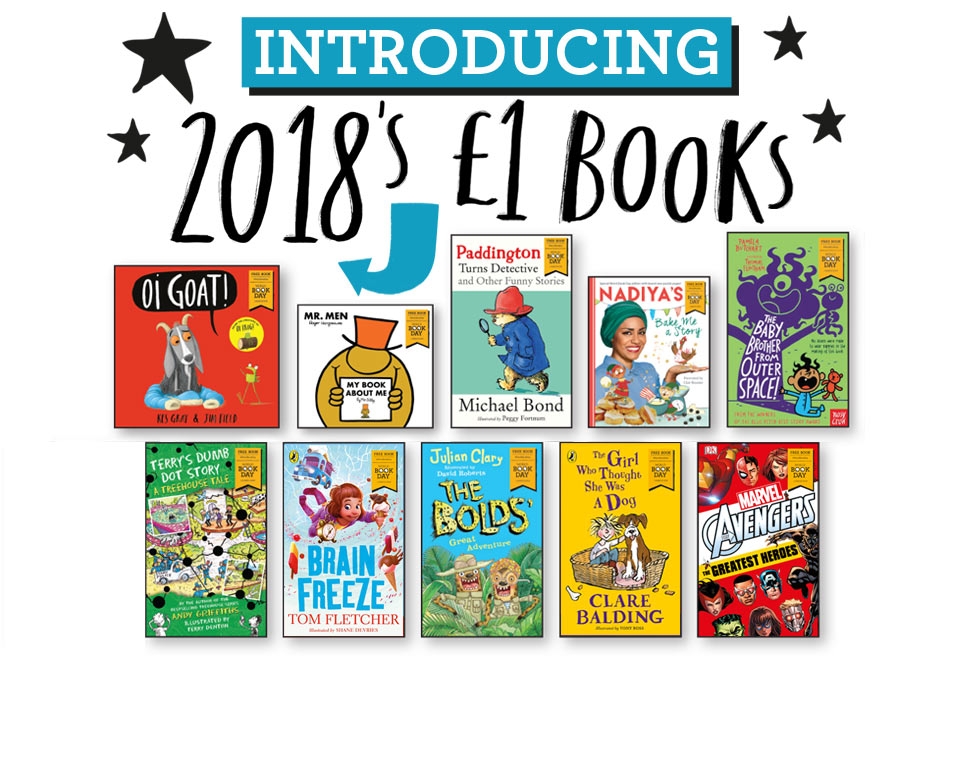 Here is the full list of all the £1 World Book Day books. Follow the book link to be directed to the World Book Day website for more information about each book. And find out more about the authors & illustrators, & other books they have written, by clicking on their name.
Oi Goat by Kes Gray & Jim Field
Mr Men My Book About Me by Adam Hargreaves
Paddington Turns Detective by Michael Bond
Nadiya's Bake Me a Story by Nadiya Hussain
The Baby Brother From Outer Space! by Pamela Butchart
Terry's Dumb Dot Story by Andy Griffiths & Terry Denton
The Bold's Great Adventure by Julian Clary
The Girl Who Thought She Was a Dog by Clare Balding
Marvel Avengers - The Greatest Heroes
And the O'Brien Press Exclusive Irish World Book Day Book

For the first time, this World Book Day there are 5 special Teen titles too! Each special edition novel is priced at £2.50 each, or £1.50 to those paying with WBD tokens.

An Abundance of Katherines by John Green
Fly by Night by Frances Hardinge
Gangsta Rap by Benjamin Zephaniah
I Have No Secrets by Penny Joelson
Summoner The Novice by Taran Matharu

Or if you'd prefer you can use your token to get £1 off any full priced book instead.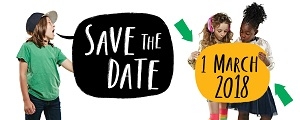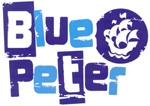 Blue Peter will announce the winner of their Best Story and Best Book with Facts 2018 in a special show on World Book Day. You can see the shortlist & read more about the books here!

Your World Book Day Book Tokens are valid from Monday 26 February–Sunday 25 March 2018.

For more information visit www.WorldBookDay.com or join in the conversation on the World Book Day facebook page and on twitter @WorldBookDayUK