LOVEREADING4KIDS CELEBRATES ONE MAN AND HIS DOG
The Adventures of Tintin is a series of comic strips created by Belgian artist Hergé, the pen name of Georges Remi (1907–1983). The series first appeared in French in a children's supplement to the Belgian newspaper Le Vingtième Siècle on 10 January 1929.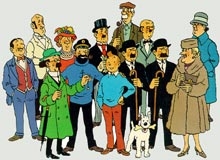 THE STEVEN SPIELBERG FILM:
The film due for release in October 2011 is directed by Steven Spielberg and the script is based on two of the stories; The Secret of the Unicorn and The Crab with the Golden Claws. Jamie Bell (Billy Elliot star) is playing Tintin, Andy Serkis is playing Captain Haddock, and Simon Pegg and Nick Frost are playing Thomson and Thompson. The cast also includes Daniel Craig, Toby Jones, Mackenzie Crook and Gad Elmaleh.
THE BOOKS:
A new edition of The Secret of the Unicorn has been released in time for the film. Herge's publisher Egmont also re-released 8 wonderful volumes featuring all 24 Tintin titles in celebration of the Centenary Anniversary of Herge's birth in 1907. The titles include Tintin in the Land of the Soviets, Tintin in the Congo and the little known Tintin and Alph Art.
The hero of the Tintin series is a young Belgian reporter, ever aided in his adventures by his faithful dog Snowy. Later additions to the cast included the brash and cynical Captain Haddock, the bright but hearing-impaired Professor Calculus and other characters such as the incompetent detectives Thomson and Thompson. Hergé himself features in several of the comics as a background character.
Tintin has long been admired for Hergé's signature ligne claire style and engaging, well-researched plots which have straddled a variety of genres. The stories within the Tintin series always feature slapstick humour, accompanied in later albums by sophisticated satire, and political and cultural commentary.
Spanning more than 50 years Tintin's adventures, from the Congo to the Moon, created 24 timeless books. Beautifully rebound in 8 hardback sized books with usually 3 of the 24 titles in each volume, they are perfect for Tintin fans past and present to ensure that the adventure and excitement can live on with a new generation of children.
Check the centre column on this page to find out which titles feature in which of the 8 volumes.