Lovereading4kids is pleased to feature the UKLA Book Awards this year. Run by the UK Literacy Association, what makes these awards so unique is that they are the only awards judged entirely by active classroom teachers, who are able to share the books with their classes and genuinely discover what works with young readers.
"A great opportunity to read an exciting range of new literature and then to share ideas with other teachers" Kaye Wilson, teacher judge.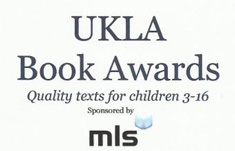 This year, seventy-seven teachers have been selected from schools in Nottingham, Derbyshire, Leicester, Coventry and Birmingham to read the longlisted books, discuss them with their group leaders, and share them with pupils.
Then they had the difficult task of choosing their shortlist of six books in each category! Which you can see here along with the 2014 shortlisted books.

For more information on the UKLA Awards visit www.ukla.org/awards