Crack reading and make confident and enthusiastic readers with this fantastic reading programme.

Click on one of the seven buttons below to jump straight to the books in that level but first, why not read on for more information about why this home reading scheme is so highly rated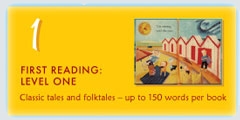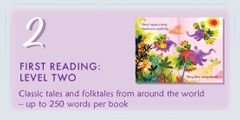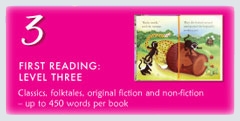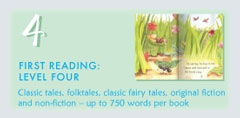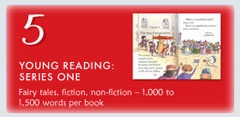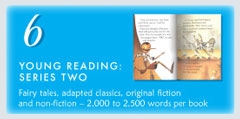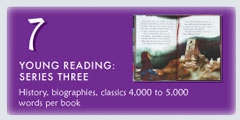 A message from Julia Eccleshare:

"Crack reading and make confident and enthusiastic readers with this fantastic reading programme. Seven steps take beginners from simply written folk stories told in 150 words through to lovers of classic and original stories and histories, biographies and classics told in 5,000 words. Colour coded for ease of use and presented in a beautiful hardback, every story is well-written and attractively illustrated in full colour by leading artists."

About the Usborne Reading Programme:
The Usborne Reading Programme is a collection of over 200 titles, graded in seven levels, covering a wide range of subjects, both fiction and non-fiction through which, aspiring readers will enjoy developing their reading skills.

At Lovereading4kids we've selected a small range from each level in order to give you, as a parent, a taster of this parent/child reading programme, whether you have a child that's a beginner reader or a more confident one, or indeed one that needs to be motivated and inspired because they find reading difficult or dull. New titles will be added from time to time.


Beautifully produced, and with lively writing and fabulous illustration, the books are designed to capture the imagination and build confidence. The seven levels (to view the Usborne Reading Programme 'framework' for the seven levels, covering themes, story length, and language and grammar structure, click here) will take a child gradually through the reading levels, from a beginner to a more confident reader. There is clear progression in terms of subject, style, narrative length (starting at 150 words and going up to 5000 words), sentence structure and vocabulary, giving children the satisfaction of mastering real books and making measurable progress.



First Reading: Level One – A first real book for beginner readers. short single narrative followed by reading-related puzzles. Simple tales using a small vocabulary provide the perfect first step towards enjoying the key ingredients of how a story is told.
First Reading: Level Two – For stretching the reader. Single narrative plus character sheets and/or maps/puzzles. A more advanced storyline and more sophisticated sentence structure help readers enjoy more complex stories.
First Reading: Level Three – Readers can develop reading stamina with these longer and more dramatic stories. Lots of repetition helps readers to become confident and skilled.
First Reading: Level Four – For building stamina further. Single narrative. With a longer text, the stories have more description. Lots for readers to enjoy and be excited by.
Young Reading: Series One – For those just starting reading on their own. Several linked stories or one longer narrative in chapters. Some direct and indirect speech. These fiction, non fiction and fairy tales told in exciting stories of 1,000 words are just right for newly independent readers to enjoy on their own.
Young Reading: Series Two – For those gaining in confidence. Longer stories add more description for independent readers as they develop their skills and expertise. Single narrative in chapters. Introduces irony and sub-plot. Allows for inference and deduction.
Young Reading: Series Three – For fully confident readers - Single non-fiction narrative in chapters. History, biography an classic stories told in 4-5,000 words bring a host of subjects alive for solo readers.


Superb quality and great value books:
The books are beautifully designed in hardback with a ribbon marker and combine vivid, engaging writing with captivating full-colour illustration on every page, featuring the work of artists from around the world as well as superb archive photography for the non-fiction titles. There's something to appeal to everyone.

Supported by experts:
The programme has been developed in consultation with a leading expert in the teaching of reading, Alison Kelly, you can find more information about her below, with non-fiction titles drawing on expertise from relevant specialists.

Love reading with Usborne:
Children are won over by the fresh, engaging writing and illustration on perennially popular subjects. Parents can support their child's reading in the vital early stages, knowing the books are underpinned by a sound reading framework and core values.

About Alison Kelly:
Reading consultant Alison Kelly worked for many years as a primary school teacher in London. She is currently a Senior Lecturer in English Education at Roehampton University in London, teaching about all aspects of literacy. She is co-editor of a number of successful textbooks and has also written teaching materials for young children. Alison worked with Usborne to establish the principles which underpin the Usborne Reading Programme: exciting, engaging narrative that not only appeals to readers but provides a model for their own writing, and lively, detailed design and illustration that adds its own dimension to the text. She helped to set up the framework for the seven levels, covering themes, story length, and language and grammar structure. Lastly, she reads all titles at draft stage, and in their final version.

For even more information on Usborne and the huge range of titles available within the Usborne Reading Programme, click here.