Reviewed by the Kids Reader Review Panel
All authors and books in this category
Show this month's Reviewed by the Kids Reader Review Panel Books
Show All Reviewed by the Kids Reader Review Panel Books
Authors writing in this genre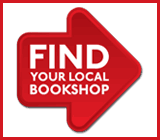 Share this page
"Ed loves reviewing the books and it definitely encourages his reading, both solo and with me (which I love)." Tracey Parker (parent)"Daniel has seen his review on the website for The Dark – he is so excited!" Cat Bisland (parent) Since its inception Lovereading4kids and its sister site Lovereading have taken a different approach to book reviews, relying uniquely on the selection and review of books by editorial experts. On Lovereading4kids it is Julia Eccleshare who is also the Children's Books Editor at The Guardian. She knows what makes a good read whatever the genre and actually reads the books before telling you what she thinks - radical we know, but sometimes old fashioned ways are the best.
In 2012 however, to complement our expert reviews we decided to invite children of Lovereading4kids members to join the newly created Kids Reader Review Panel.
We've now attracted over 500 children aged from 4 right up to late teen and 100's of books have now been read and reviewed by them. Many of them even have their own book blogs and help us to spread the word of mouth still further on a book they've enjoyed.
Panel members reviews are loaded onto the site and complement those of our own Lovereading editorial experts. We're even now receiving feedback from visitors to Lovereading4kids that the 'Kids Reader Review Panel' reviews are as valued as those of our own Lovereading book experts! With that in mind we thought it would be very helpful to everyone if we created a category and put all the books that have also been reviewed by some of our Kids Reader Review Panel members, in one easy to find place.
Here are a few testimonials from parents, teachers and importantly direct from some of our 'Kids Reader Review Panel'
The whole class are desperate to get copies of your books and are disappointed if their name doesn't come out of the hat. The more books the better! I've gone from having a class of boys who won't read to a class who get upset if they don't get chosen to read. It's brilliant! Jane Edwards, Little Sutton Primary School, Ellesmere Port (Teacher)
Matilda Greenacre, one of our Reader Reviewers next to all the books she has reviewed for us.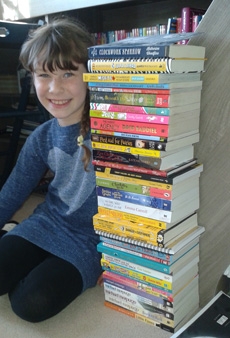 I just wanted to say thanks for the opportunity to do this for your site.
Ed loves reviewing the books and it definitely encourages his reading, both solo and with me (which I love).
Tracey Parker (parent)

Just wanted to say thanks so much for uploading Cara's book review - she had the biggest smile ever when I showed it to her! It will have given her and her family a real boost. Great site too! Jill Rooney (parent)

The book reviewing has been a real treat for us, thank you for a wonderful experience. Tracey Upchurch (parent)

Thank you for sending me the published book of TIMMY FAILURE: MISTAKES WERE MADE. I loved Timmy Failure and have told all my friends about it. I'm glad you liked my review, I was really excited to see a quote inside the book. Charlie Upchurch (age 9)
Sometimes even publishers use the reviews that are written...

"Evie was thrilled to find the Monster and Chips review she wrote for you printed inside the sequel she bought last week"