Author's Website
www.sophiemckenziebooks.com
Author's Facebook
Find Sophie Mckenzie on Facebook
Author's Facebook Latest
Author's Tweets
Did you know
At lovereading
4kids
you can download and read an opening extract and an online review of books by Sophie Mckenzie and hundreds of other authors
Children's Author 'Like-for-Like' recommendations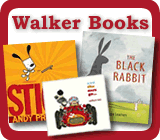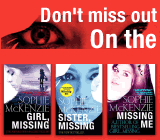 Need to send a gift?
Click to buy book vouchers
Sophie Mckenzie - Children's Author
---
Sophie McKenzie has enjoyed great success and critical acclaim in less than five years as a published author. To date, she has won twenty national, international and regional book awards.

Sophie was born and brought up in London, where she still lives with her teenage son. She has worked as a journalist and a magazine editor, but fell in love with writing after being made redundant and enrolling in a creative writing course. She burst into the publishing world with Girl, Missing, her debut novel (published 2006), which tallied up numerous award wins nationwide, including the Richard and Judy Best Kids' Books 2007 (12+ category), The Red House Book Award and The Manchester Children's Book Award. She was also longlisted for the Branford Boase award, which commends debut authors, and the coveted Carnegie Medal.

Following her exceptional debut, Sophie published the All About Eve trilogy, comprising Six Steps to a Girl (2007), Three's a Crowd (2008), and The One and Only (2009).

A return to thriller-writing saw publication of Blood Ties in 2008, another multiple award-winner which again saw Sophie longlisted for the Carnegie Medal, and crowned winner of the North East Teen Book Award and the Red House Book Award among many others. Blood Ransom, the sensational follow-up to Blood Ties was published in 2010. Sister, Missing, Sophie's long-awaited sequel to Girl, Missing, was released in September 2011.

The Medusa Project series was launched in July 2009, following the thrilling, fast-paced story of four teenagers impregnated with the Medusa gene, a gene which manifests itself in various psychic abilities. The series so far features The Set-Up, The Hostage, The Rescue, Hunted and Double-cross. A special short story, The Thief, was published for World Book Day in 2010 and Hit Squad, the final book in the series, was published in January 2012.
Sophie has also published The Fix, Time Train to the Blitz, Author's Sword and contributed to Losing It, alongside the likes of Melvin Burgess, Keith Gray, Jenny Valentine and Patrick Ness.
You can see Sophie giving her writing tips in a video - click here.
Author photo © J Ring Aug 2012
---
Featured Books, with extracts by Sophie Mckenzie
---