Login or register
Please enter your login details below, or register as a Lovereading4kids user.
Forgotten Password?
Don't worry if you have forgotten your password, simply enter your email address here and click the 'Reset Password' button. We will then send you an email to help you reset it.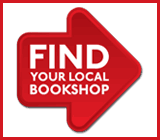 Why do I need to register?
Registering with Lovereading4kids allows you to download free Opening Extracts from each book to find out which is right for you. It also gives you access to our Author Like-for-Like recommendation tool – just type in the name of an author you love and you can discover other great authors with similar styles.
Finally, registering gives you the chance to sign up for the popular, personalised, Lovereading4kids newsletters that make navigating the mammoth world of books easy and fun. Each one reviews a small selection of great new titles in your favourite categories; you can then read Opening Extracts of them all to choose for yourself. You can also specify how often you would like to be sent these little literary musings.
The only information we need from you is an email address and a password!