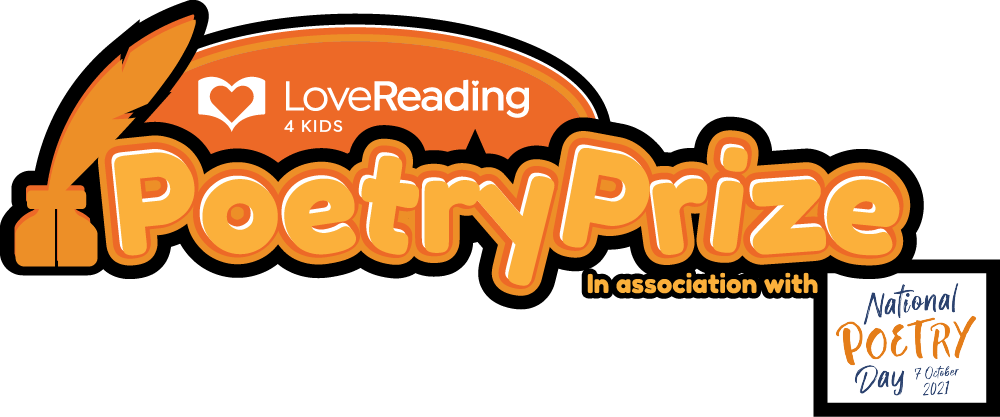 Kids, you are absolute superstars! LoveReading4Kids is delighted to announce the winners of the 2021 Poetry Prize in association with National Poetry Day, today during the UK's biggest annual celebration of poetry.
What better time to celebrate the creativity of our young poets across the nation and bring people together to enjoy, discover and share words that matter.
Earlier this year, with the backing of National Poetry Day, LoveReading4Kids launched our third annual poetry competition for children aged 7- 11 from across the UK inspired by the National Poetry Day theme of Choice – and boy did you deliver, kids!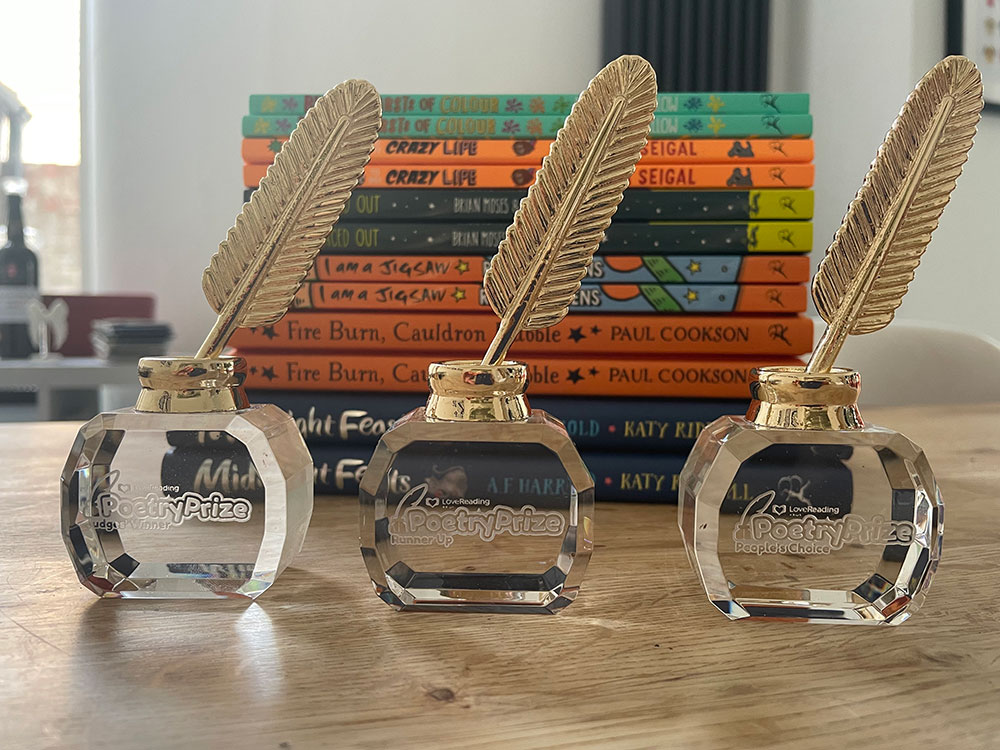 After a tough shortlisting process we last month announced the 12 shortlisted poems and since then you have been voting in your droves for your absolute favourite who will be awarded the People's Choice.
One of our Judges Joanne Owen commented: "In a word, wow! The standard of entries was incredible, with such varied styles and subjects showcasing the breadth and depth of young creative talent. I was especially impressed by the poets' attention to detail, and their ability to get to the hearts of their themes while evoking universal emotions and atmospheres so vividly."
With no further ado, let's announce our four winning poets. And my, it was a joy reading the hundreds of wonderful poems, so thank you to every child who shared their poems with us. Bravo!
The Judges' Winner and the People's Choice Award both take home a trophy and a batch of beautiful poetry books from Bloomsbury Children's.
The winning poet, awarded by the Judges is Benjamin Lees, age 9, of Prudhoe West Academy, Prudhoe near Newcastle upon Tyne with his poem Sing a Song of Forests. Benjamin also wins a visit to his school from National Poetry Day ambassador Matt Goodfellow and £250 of books for his school courtesy of National Book Tokens. Take a look at Benjamin's award-winning poem below.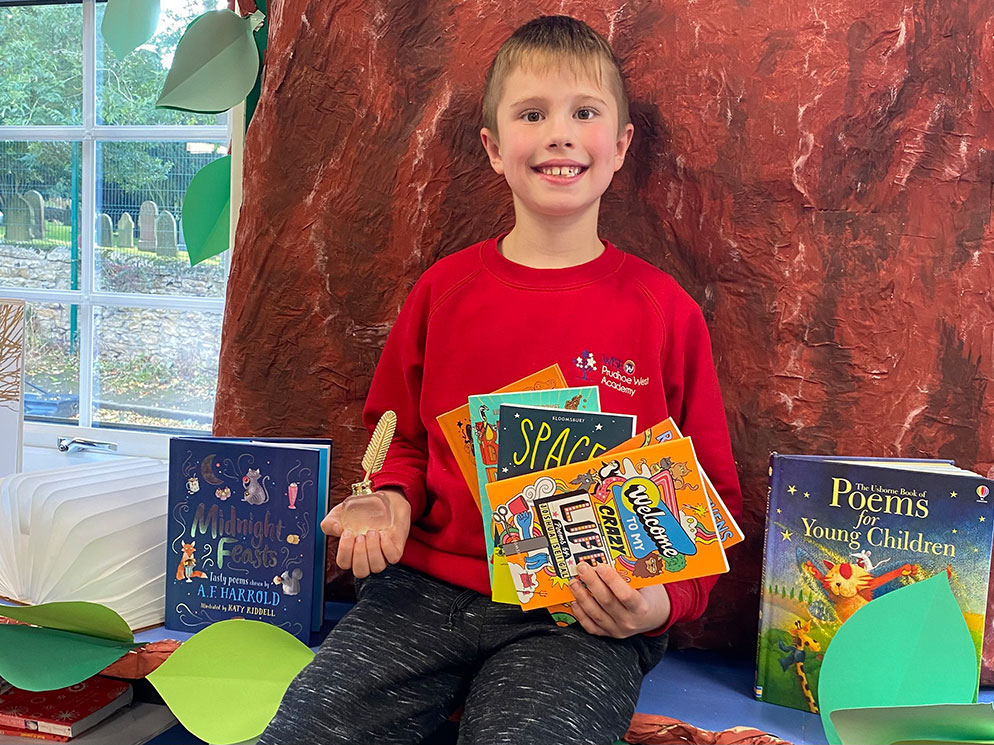 One of our Judges Mónica Parle, Executive Director of the Forward Arts Foundation which is responsible for National Poetry Day, commented: "Sing a Song of Forests reminded me so much of Whitman and his euphoric odes to nature, but that last line brings us away from the innocent forest to a direct reminder of the world we're currently living in. At the start the poem, felt so joyful and rhythmic, and then it slams right into an urgent political call to action."
And another shared: "This poet demonstrates true word wizardry, evoking all the senses to paint a vivid picture of a glorious forest and its animal inhabitants. It's an exuberant, sensory celebration of nature, with the last line delivering an ingeniously clever touch. After enthralling readers with the poem's dancing rhythm and rhymes, the writer sagely delivers an important reminder that all the jewels of the forest celebrated throughout the poem need to be respected and cared for - smart, powerful and entertaining." Well done, Benjamin!
And thank to you lovely voters we are also delighted to announce the People's Choice winner, Rylee McDougall, aged 10 of Curry Rivel C of E Primary School in Langport in Somerset. Overwhelmingly the people made their voice heard and hundreds chose Rylee's amazing poem The Magic Box. Thank you to everyone who took the time to appreciate the poems and vote for the one that really spoke to you!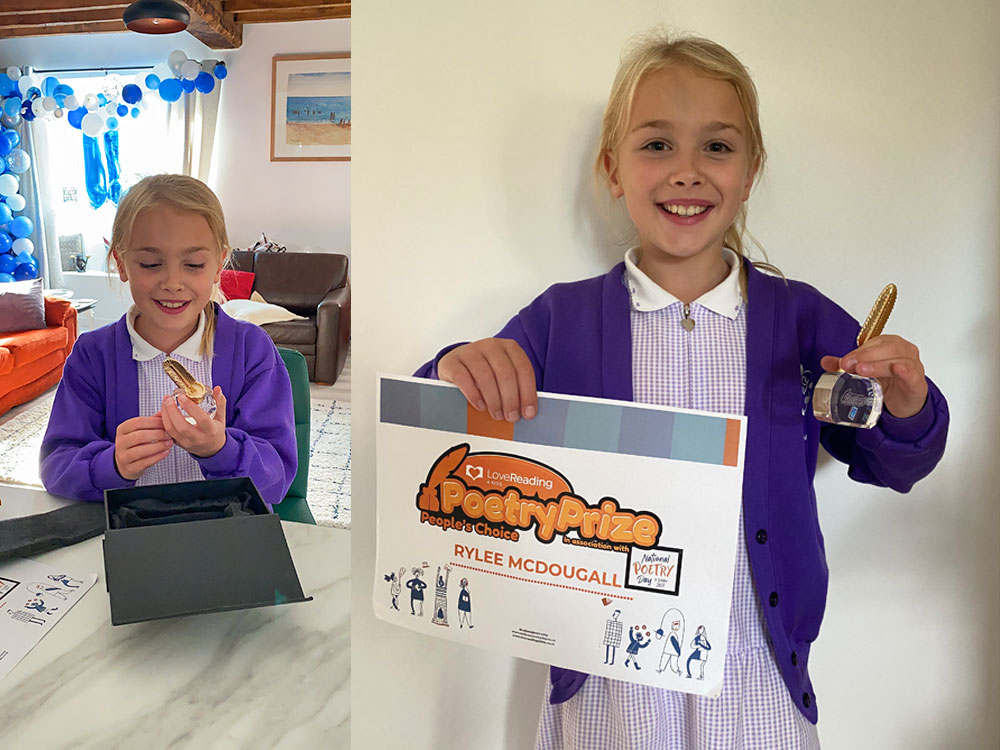 One of our Judges commented: "What a beautiful, stirring poem. The details were so poignant, so brilliantly conjured - any reader will instantly feel the magic of much-missed Great Nan, understand her relationship to the writer, and appreciate what kind of person she was. It's especially powerful because the striking personal details are presented within a wider, universal framework of the moon, sun and stars. Very moving, very wise - I adored it."
We must also say a huge congratulations to Enana Aleismy of Ada Lovelace C of E High School in Ealing for her wonderful poem The Daughter of the Moon.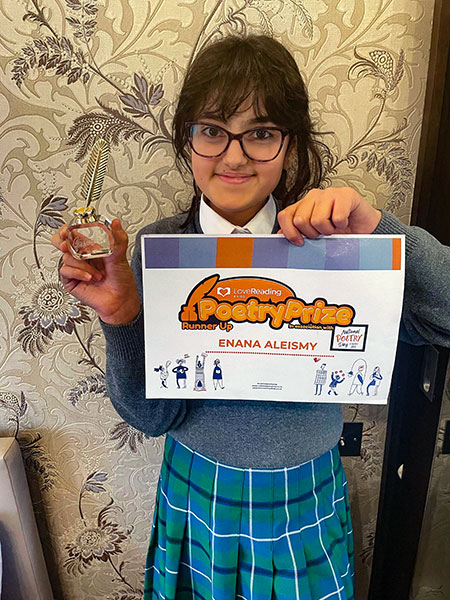 And last, but not least, well done to Ruby Cawley of Green End Primary School in Manchester. A very worthy Highly Commended for her brilliant poem The Caged Lion.
And let's not forget a huge round of applause for all of our remaining shortlisted poets:
Phoebe Wilks - Socks! - Redlands Primary School
Amatullah Khatun - Mean or Kind - Queen Mary's High School
Charlotte Stow - When I grow up - Witham St Hughs Academy
Freya Turner - Forever A Friend - Wickham Market Primary
Ava Sweeney - Diverse but United - Bures Primary School
Anna Sanders - I don't want to grow up - Overdale Junior School
Philippa Irving - 10 Days of Isolation - Hesketh House, Bolton School
Maria Shah - Nature against Covid - Whitchurch Junior School Shropshire

Mónica Parle commented: "What joy to see these urgent and vibrant young voices. They give us a perfect slice of life of children's experience in this unprecedented Covid era. Packed with joy and humour and life - it's a useful reminder of the role that poetry can play to connect us, and help us make sense of a surprising and unnerving world. We at National Poetry Day and Forward Arts Foundation are so delighted to partner with LoveReading4Kids around such a wonderful competition."
LoveReading Managing Director Deborah Maclaren shared: "We are delighted with the response to this competition in our third year and want to thank every child for sharing their poems with us. It was an incredibly rewarding and inspiring journey of creativity reading the hundreds of entries and an absolute joy to read them. We have also seen the real need for a competition such as this to inspire and engage children during what has been such an incredibly difficult time."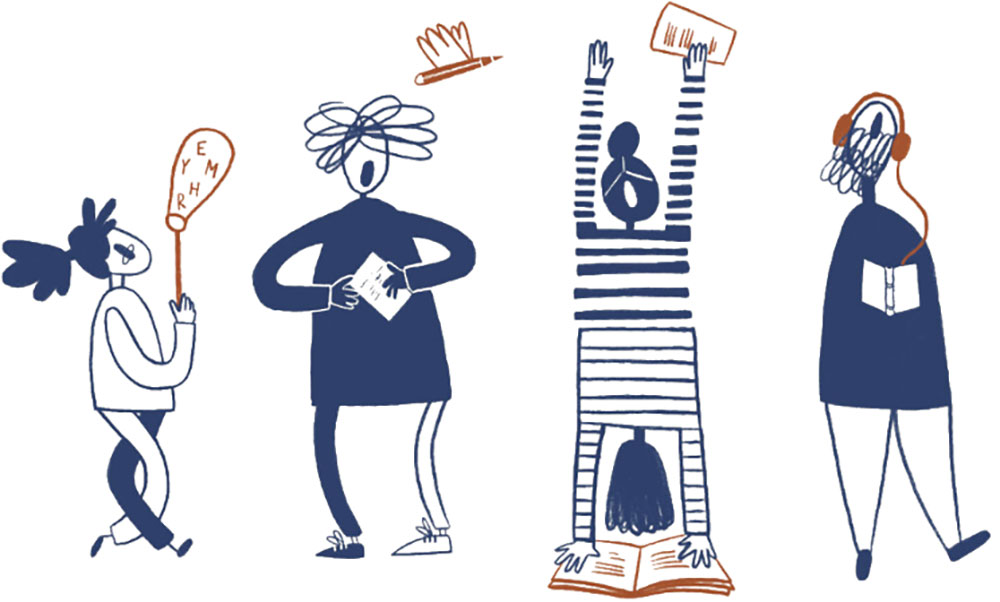 LoveReading, LoveReading4Kids and LoveReading4Schools are the UK's leading book review and recommendation websites, whose mission is to share book love and promote a love of reading by offering the tools, advice and information needed to help you find your next favourite book.
Forward Arts Foundation is responsible for National Poetry Day on the first Thursday of October. This annual mass celebration, founded by William Sieghart CBE in 1994, brings the nation together around the performance, sharing and making of poems: it is the highpoint of our year-round campaign to raise awareness of poetry's value.
National Poetry Day 2021 is today, Thursday 7th October: the theme is Choice.
@PoetryDayUK
#NationalPoetryDay
#ShareAPoem
Look out for the 2022 Prize which opens in February 2022.
To find out more information email kids@lovereading.co.uk or contact Managing Director Deborah Maclaren at deborah@lovereading.co.uk.
And a big thank you to our partners National Poetry Day, National Book Tokens and Bloomsbury Children's Books for their support of this year's competition.
Judge's Choice: Sing a Song of Forests by Benjamin Lees
Sing a song of forests,
Trees swishing in the breeze,
Jumping squirrels collecting nuts,
Pollinating bees.
Badgers climbing in their holes,
Owls hunting for mice,
Happy children hiding in the bushes,
Playing hide and seek twice.
Butterflies fluttering their wings,
Water in the streams swishing through the rocks,
Sweet apples hanging from the apple tree,
The sun is shining brightly on the fox.
Sing a song of forests,
Trees swishing in the breeze,
Hundreds of animals,
Look after them please!
People's Choice: The Magic Box by Rylee McDougall
In my magic box I would put...
My Great Nan to see,
How she likes her soul being free,
To see her smile one last time,
Would make my heart feel sublime.
In my magic box I would put...
Me and my Great Nan having fun,
We'd be joined like the moon and sun,
We would play until the stars shine,
Then my life would be just fine.
In my magic box I would put...
my great nan smelling flowers,
We would pretend we had superpowers,
The birds would sing all day long,
And we would listen to their lovely song.
Runner Up: The Daughter Of The Moon by Enana Aleismy
The girl with the wispy blue eyes, the pale skin and hair,
Will make a choice- if she dares,
Isolated, nobody but the mist and stars, no longer seen,
The inky sky, the faint moonbeams,
Two paths as a climax to a story,
Which will end happily or will end gory,
One path requires selflessness and pride,
Courage, which no longer can hide,
The second will show who she is in reality,
This will decide all destiny,
One day she will know, the daughter of the moon,
Should it happen never or soon,
The choice she makes will change so much,
She might choose right or have to bear the crush,
If she chooses path one,
Her happiness is spent and done,
But the ones above will hear her plea and see her haul,
Safety and happiness will be granted to one and all,
But second, her wish shall be granted,
Her heart and soul no longer grounded,
But the ancient scripts warn of a terrible fate,
Others will be consumed by rage and hate,
Her footsteps seal the prophecies of old,
Which destiny shall take hold,
She takes her breath, holds her head high,
Walks into the tunnel where her end is nigh,
Highly Commended: The Caged Lion by Ruby Cawley
Ruby's version of lockdown loneliness (& finding freedom)
The free lion tears through the vast expanse of green,
and swerves swiftly through the whispering trees,
and leaps freely over the glistening stream,
and he names the jungle his kingdom.
But a lion that's lost it's majestic glow,
is trapped behind its solid bars of sorrow,
his eyes are embers of a flickering fire,
and he sits alone
drained by the feeling of desire,
his head is weary
and his eyes have drooped,
so he whimpers himself to sleep.
The free lion thinks
of a different song,
of birds joyful harmonies,
and twisting rivers long,
and the waves licking his paws,
as he stands on the sand,
and he dares to claim the jungle.
But a caged lion's memories
torment it's haunted mind,
as he remembers the world
he had to leave behind,
his head is weary
and his ears have drooped,
so he whimpers himself to sleep.
The caged lion roars
as he dashes through the trees,
and his silky mane whirls round
as he stands by the sea,
his head is proud as his ears stand tall,
and he roars with the call of the jungle.
Nature against Covid by Maria Shah
The third lockdown, has come to an end,
Covid has been sad, but you still have a friend.
Nature and springtime, is here,
The woodland bluebells, almost ringing in my ear.
New vibrant, green shoots on the trees,
Just listen, to the humming bees.
Our world once more, will be saved,
If we humans, are kind and well behaved.
Nature is there for everyone,
Just open your eyes and you have won.
10 Days of Isolation by Philippa Irving
10 Days of Isolation
My symptoms began,
To rest was my plan,
My parents began to online scan…
Was I needing a medicine man?
The nose tests were terrible,
Absolutely unbearable,
Up my nose, and twisted around, 10 times all together,
Sneezing just like it was a tickling feather.
The test was back, positive I hear,
What did this mean? Was I going to disappear?
Instead I quietly locked myself away,
For a total of ten whole days…
My family too, we were in isolation together,
I felt sorry for my school friends and teachers,
For another period of home schooling being the main feature.
The only thing I looked forward to was spending time with my creature.
Each day that went by I was thankful to wake,
I'd heard about so much death from this virus,
I felt so lucky to survive,
Unlike some others who were not alive!
Ten days went pretty quick,
And I did not get sick,
What I did learn over this period of time,
Is the kindness given to us will last a life – time.
Neighbours Josh, Anne and Wanda, helped with walking our dog Charlie,
He now has a best friend called Harley!
Shopping by Linda, presents, cards and treats,
Including some lovely sweets for us to eat.
Each day I felt happy to be at home and well,
Although the isolation at times made me yell,
Board games helped lots with the long days at home,
In my garden too on sunny days to roam.
10 days were up and no one else in the family became ill,
I was so grateful for all the goodwill,
Back to school and outdoors I was delighted to know,
That this virus had actually left a positive glow…
I don't want to grow up by Anna Sanders
"Don't you want to grow up?" is what they all say,
But you don't have a choice: you age day by day.
I don't want to grow up
I don't want to be the one that faces all the danger
I don't want to have to say, "No!" to a friendly stranger
I don't want to know if I get my dream job or get rejected
I don't want to be one of those "not selected"
I don't want to have to hide my fist-clenching rage
I don't want to always put on that happy smiley face
I don't want to choose between this and that
I wish I could have a magic sorting hat
They say when you grow up, your choices are inflated,
But I just think choice is overrated
Diverse but United by Ava Sweeney
We are diverse but united
Together our strength can be ignited
We all started off the same
But were called by a different name
We all have different hopes and dreams
But we are more alike than it seems
We all live in different countries
But were all part of the same communities
We all have different goals to achieve
We all try not to deceive
We all have different colour skin
We all try not to sin
We all have different people we accept
We all try not to reject
Together our strengths can be ignited
We are diverse, but united.
Forever A Friend by Freya Turner
You are with me when I'm in fear,
You stand by me with every tear.
Your smile means so much,
I feel lost without your touch.
When you're here, I feel stronger,
When you're not, the days feel longer.
We've had so much fun together,
With moments that I will cherish forever.
We've always played lots of joyful games,
Drawing characters and giving them silly names.
You are funny, you are kind,
You have such a creative mind.
You are incredibly smart,
With the biggest of hearts.
You will always be my friend,
Always until the very end.
Every day there's something new,
And that is why I choose you.
When I grow up by Charlotte Stow
When I grow up I don't know what job I will do
There are so many choices to think through
I could be a teacher
Or a preacher
Maybe a firefighter
Or a writer
What else?
A children's nurse
Or drive a hearse
Be in the police
And a keeper of the peace
A hairdresser
Or I could be a data processor
(Whatever that involves?)
An explorer
a bit like …Dora
Or make sure women's rights come first
Just like Emmeline Pankhurst.
Who knows what I will be
But what's important, is I am ME!
Mean or Kind by Amatullah Khatun
Everyone has the choice of being mean or kind,
For some people it's hard to find
Kind, encouraging words.
Or mean, hurtful comments, it's your choice.
Kind words bring smiles on faces,
But mean ones can make you frown.
Kind words bring laughter and joy,
Though mean comments can bring you down.
So remember, everyone can choose between being kind or mean,
It's your choice that matters.
And if you're not sure,
Keep in mind that kindness is the best possible choice.
Socks! by Phoebe Wilks
Socks!
I cannot wait
To share with you
My coloured socks
The whole day through
Some are dirty
Some are clean
Some don't fit
In the washing machine
Some are spotty
Some are dotty
Some are smelly
Like a baby's potty
Some are big
Some are cute
Some don't fit
In your big brown boot
If you hang them
On the washing line
They'll not be wet
They'll dry just fine
If you don't pair them
Up just right
You'll go to school
Looking an awful fright
Such choices, decisions
So many selections
Posed each day
By my sock collections
Which ones should I chose today?
'They're only socks' I hear you say
But, you see, they're such a treat
For your sweet (or sweaty) little feet.