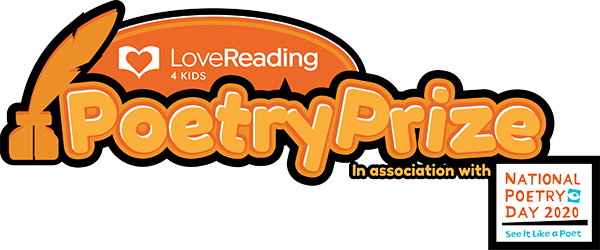 LoveReading4Kids is delighted to announce the winners of the 2020 Poetry Prize in association with National Poetry Day, today during the UK's biggest annual celebration of poetry!
What better time to celebrate the creativity of our young poets across the nation and bring people together to enjoy, discover and share words that matter.
Earlier this year, with the backing of National Poetry Day, LoveReading launched the 2020 poetry competition for children aged 7- 11 from across the UK inspired by the National Poetry Day theme of Vision.
After a tough shortlisting process we are today delighted to announce our three winning poets. And my, it was a joy reading the hundreds of wonderful wonderful poems, so thank you to every child who shared their poems with us. We've laughed, cried and been amazed by the quality of their creations. As one of our judges Joanne Owen commented: "There's such incredible writing - witty, moving, insightful, with many of the poems capturing our times in a way adults would do well to learn from." Bravo, children, bravo.
All three winners receive a trophy, certificate and a selection of poetry books courtesy of publisher Bloomsbury Kids.
The winning poet, awarded by the Judges is Celyn Gadd, age 8, of Oswald Road Primary School in Chorlton with his poem Plip Plop. Celyn also wins a visit to his school from National Poetry Day ambassador and award-winning poet Joshua Seigal, £250 of books for his school from National Book Tokens and an annual subscription to the gorgeous children's magazine Scoop.
Take a look at Celyn's award-winning poem below.
"We received Celyns beautiful trophy, certificate, books and the school vouchers for books today, thank you so much! Celyn is overjoyed with all the goodies and is looking forward to his Scoop Magazine!"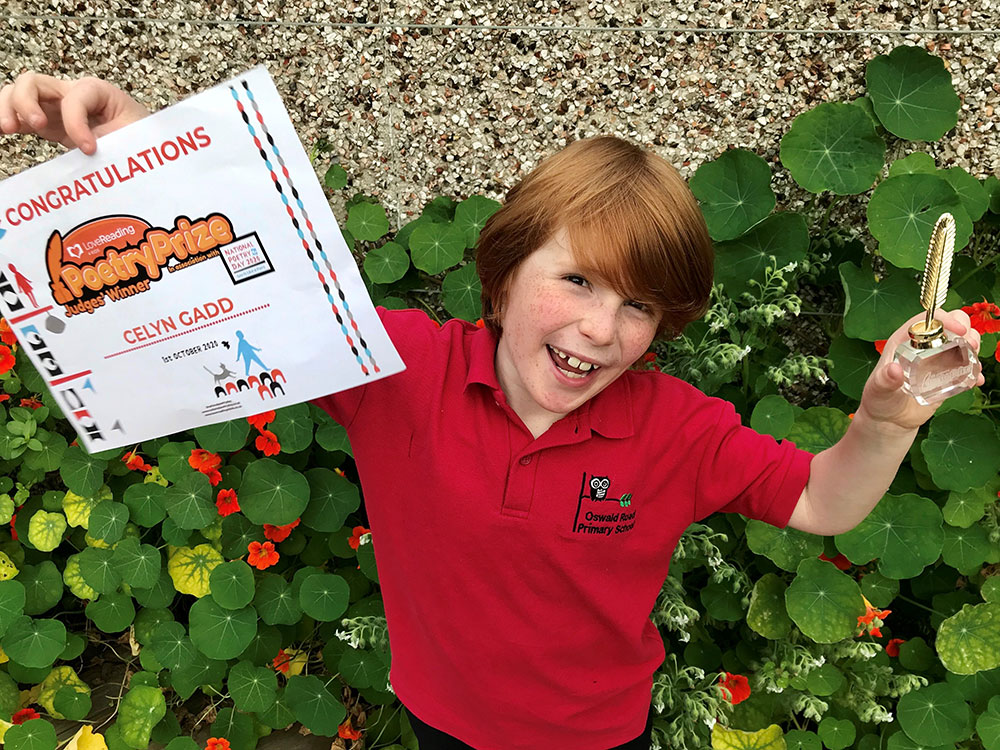 We'd also like to announce the People's Choice winner, Thomas Corley, aged 10 of Our Lady of the Visitation Primary School in Greenford. Overwhelmingly the people made their voice heard and hundreds chose Thomas' amazing poem I Know Why The Lockdown Child Hopes.
"Thomas was completely over the moon! He felt bad he hadn't won the money for the school so he is donating some of the lovely books you sent him to the school library and the class library too and one (Fire Burn and Cauldron Bubble- magical poems) to his teacher last year who gave the task of writing the poem and inspired him and he had read Macbeth with - so the perfect choice! He read them all last night!"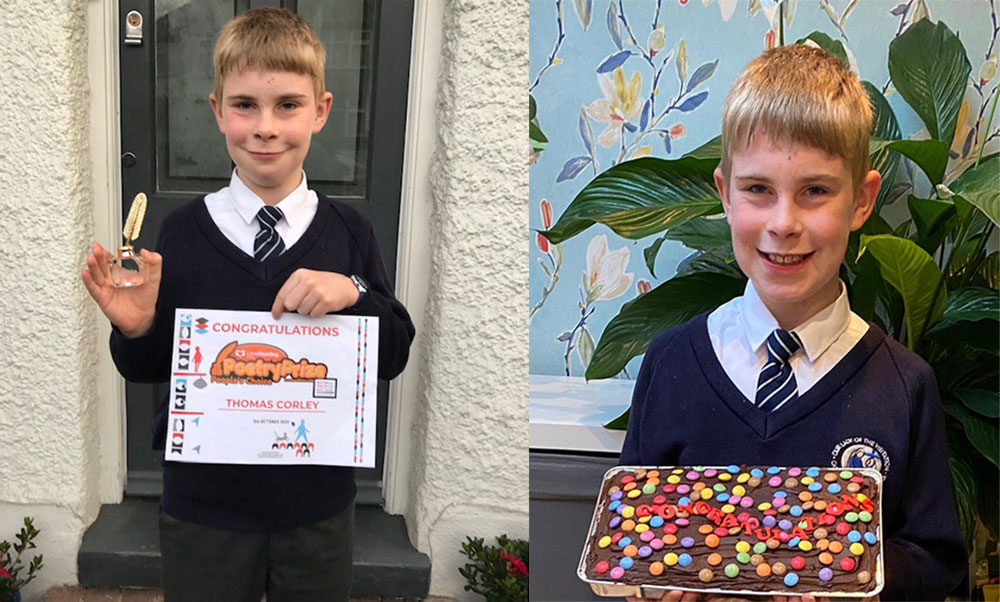 And last but not least, well done to Lily Horner of Browney Academy in Durham. A very worthy Runner Up with her brilliant poem I'm Only 9!
Lily is absolutely delighted with her runner up prize and says "Thank you my books are great!"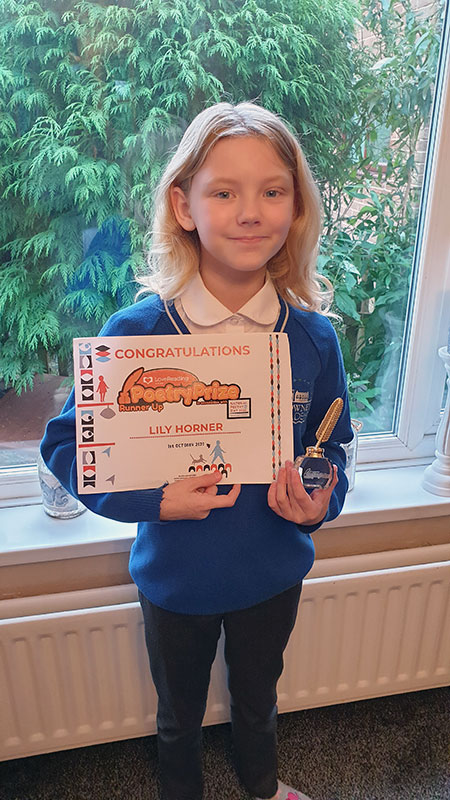 National Poetry Day Manager Monica Parle commented: "We at National Poetry Day have seen enthusiasm for poetry rocket during lockdown as the British public has turned to it for solace, inspiration, and joy. And it's a delight to see how that elaborates in these fresh young voices. The choice was incredibly hard, there was such a vibrant and diverse selection of entries, but it was such a pleasure to work with LoveReading4Kids on this competition."
LoveReading Managing Director Deborah Maclaren shared: "We are delighted with the response to this competition in our second year and want to thank every child for sharing their poems with us. It was an incredibly rewarding and inspiring journey of creativity reading the hundreds and hundreds of entries. It was an absolute joy to read them.
LoveReading, LoveReading4Kids and LoveReading4Schools are the UK's leading book review and recommendation websites, whose mission is to share book love and promote a love of reading by offering the tools, advice and information needed to help you find your next favourite book.
Forward Arts Foundation is responsible for National Poetry Day on the first Thursday of October. This annual mass celebration, founded by William Sieghart CBE in 1994, brings the nation together around the performance, sharing and making of poems: it is the highpoint of our year-round campaign to raise awareness of poetry's value.
National Poetry Day 2020 is today, Thursday 1st October: the theme is 'Vision'
@PoetryDayUK
#NationalPoetryDay
#ShareAPoem
Look out for the 2021 Prize which opens in February 2021.
To find out more information email kids@lovereading.co.uk or contact Managing Director Deborah Maclaren at deborah@lovereading.co.uk.
Plip Plop
Plip plop
Plip plop
The rain
Starts to drop
It doesn't
Stop
The pale grey skies
Trap trap us inside
Pushing the cold
Makes the deck
Look like gold
Everything muted
Except for
The plip
Plop
Plip
Plop
By Celyn Gadd, Age 8
I know why the Lockdown child hopes.
A free child plays
in the school playground
and runs in the park
till the grass is no more
and dips his toes
in the crystal blue stream
and dares to claim the world.
But a child that is stuck
in his lockdown home
can seldom see past
his desire to roam
his freedom is lost and
his friends are gone
so he opens his mind to hope.
The lockdown child thinks
of things to say
worries and anxieties
fill their day
he lies on his bed
wiping his tears away
for the lockdown child
dreams of normality.
The free child thinks of his closest friend
And the games they play that never end
And the sugary sweets waiting in a colourful jar at home
And he knows his part in the world.
But a lockdown child's friends are silhouettes in his mind,
Behind locked doors he can never find.
his freedom is lost and
his friends are gone
so he opens his mind to hope.
The lockdown child thinks
of things to say
worries and anxieties
fill their day
he lies on his bed
wiping his tears away
for the lockdown child
dreams of normality.
By Thomas Corley, Age 10
I'm only 9
Hey I'm only 9, so what do I know!
Cracks in society are starting to grow
On bbc news grownups acting so bad,
Skin is just skin why you all getting so mad?
I turn on the tv hatred, violence and crime
Do you think I don't see because I'm just 9?
Statues pulled down, us kids wont get to see, but history teaches us how much better we need to be
Educate us don't shout, scream and throw, but hey I'm 9 so what do I know!
Grownups change does need to happen but peacefully though, I might just be 9 but this much I know
Maybe you adults would get along fine if you'd only remember what you didn't know at 9
So yeah I'm just a kid aged just 9, but I leave you with these wise words, love each other, be true and be kind
And one thing I know for certain aged just 9, is that ALL lives matter, in this big wide world not just yours and mine.
By Lily Horner, Age 9