Register on Lovereading4kids
Welcome to 'Lovereading4kids', a unique service which has been specifically designed for people who want to buy books for children but would like some guidance in deciding the best books for kids of all ages.
You can register with Lovereading4kids by filling in the form below.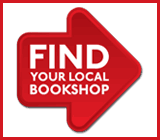 Registered users have access to unique site features
Free Opening Extract of every featured book
Exclusive Pre-Publication previews
Unique Author Like-for-Like recommendations
Exclusive book reviews by Sarah Broadhurst
Regular Email Newsletters, offers and competitions
Privacy
Please be reassured that your e-mail address will remain confidential to Lovereading4kids and not sold to any of those horrible spam people.