Featured Books, with extracts, by Sarah Crossan
Loading other books by Sarah Crossan...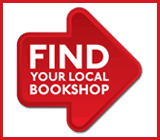 Author Info
Author's Website
Author's Facebook
Find Sarah Crossan on Facebook
Author's Facebook Latest
Author's Tweets
Fri, 31 Jul 2015 @ 22:33


#Artsnight on #Beckett was so bloody good. Gonna fish out his collected works in the morning and reread.

Fri, 31 Jul 2015 @ 19:24


Thanks for smacking me across the face with a wet pair of rubber gloves, Mum. You always know exactly how to take me down a peg or two.

Fri, 31 Jul 2015 @ 07:46


RT @maximumpopbooks: And over 60 of you have requested the chance to #youreview Sunkissed by @JennyMcLachlan1! Email coming over today... h

Thu, 30 Jul 2015 @ 17:24


RT @LRBbookshop: if someone writes volume 3 of this series we promise to make it our book of the week, no questions asked http://t.co/Eq4Rc

Thu, 30 Jul 2015 @ 15:49


And so ends my bragging RTs for today. #OneBook
Author's Blog
Did you know
At Lovereading4kids you can download and read an Opening Extract and an online review of books by Sarah Crossan and hundreds of other authors.