May 17th, 2013
With the half term fast approaching read on for lots of recommendations for greats reads for children of every age, a book to help decipher your teenager's behaviour and do something about it and even a few suggestions for Father's Day.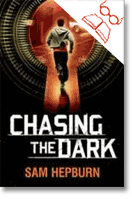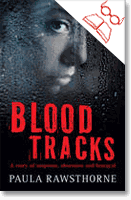 Just two pre-publication exclusives this month but two crackers both for 11+ readers. Chasing the Dark by Sam Hepburn is an excellent page-turning adventure that one of our reader review panel members Safiyah Afghan said of it 'a thrilling, un-put-down-able book about undying love and friendship.
And Blood Tracks by Paula Rawsthorne is a cleverly plotted psychological thriller, packed with mystery. We loved Paula's debut novel, The Truth About Celia Frost, and are delighted to see her second novel is equally explosive. One of our teen reading panel, Rachel Bourne said, 'Blood Tracks is probably the best book I've read this year so far!'
With only a month to go before Father's Day, why not get ahead of the game and get him a great book to share with the kids… He'll love it and you'll have time to put your feet up and have a glass of wine! Three favourites' of ours are…
The first, Made by Dad, is a cornucopia of amazing things fathers and their kids can make together with remarkably few gadgets and some imagination – which the author has boundless amounts of. It's the perfect guide for every father who's ready to tackle more than a game of catch in the garden. The other two titles are for a younger audience – I love My Daddy by Giles Andreae – From the creator of Purple Ronnie, a heart-warming look at the special bond between father and child and My Dad by Steve Smallman celebrating the love between father and child no matter how silly they are!
I'm sure we weren't like that, were we? Teenage kids can seem like unfathomable aliens sometimes. But help is at hand, with a fascinating, award-winning updated edition of a book by Nicola Morgan which reveals the inner workings of the teenage brain.
It's not their fault apparently! Blame My Brain: The Teenage Brain Revealed is a must for teenagers AND their parents. Glasnost!
Don't just take our word for it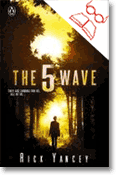 Hopefully you will have seen, and have read some of the reviews from our Children's Reader Review panel? Just look out for the 'glasses' icon and you can see, straight from the horse's mouth, what they thought. This month one book, The 5th Wave by Rick Yancey, for 11+ readers, has been getting some rave mentions. Visit the page to see them all but a comment that sums up what they have all been saying comes from Sarah Murray 'I had extremely high hopes and I was not disappointed… This dystopian book is utterly fabulous'.
If you have any children aged over 7 who would like to become a reviewer for Lovereading4kids then just drop us an email at customer_service@lovereading.co.uk with your child's name and age.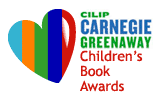 We know we mentioned this last month when the shortlist was announced, but the CILIP Carnegie Greenaway Awards shortlist is a kit-bag full of must-reads for children… all in one place! We're featuring all the contenders in a special section dedicated to the literary world's most prestigious recognition of great writing for children. If you go nowhere else on Lovereading4kids today, go here. Winners will be announced 19 June 2013.

This month our Free Prize Draws category is bursting with exclusive book goodies just waiting to be won. Visit the Prize Draws category to enter…
We've 5 fabulous SIGNED copies of the 30th Anniversary edition of Terry Jones's much-loved Eric the Viking Saga to give away. And we're giving out SIGNED dyslexia friendly books. Choose the age-range that suits you and win!
We also have signed copies of the wonderful WW2 Animal Adventures from Megan Rix's up for grabs and last but definitely not least we have 5 goody bags stuffed full of colourful Walker Picture Books to celebrate their 2013 Picture Book Party. Just visit the Free Prize Draws category to enter – what are you waiting for?…

'Spring is Sprung, The Grass is ris, I wonder where the birdies is?' – a seasonal nonsense poem seems a good way to let you know our Poetry category has had a spring clean and is now even better. It is split by age range, as you would expect and this month we especially like, for 5+ readers Here Come the Creatures! by Wes Magee and The Monster Sale by Brian Moses.


John Barrowman is well known on stage and screen but did you know he has teamed up with his sister, journalist Carole, to pen a fantasy adventure series for 9+ readers called Hollow Earth that has been picking up some 'out of this world' reviews? Twins, Matt and Emily Calder, have extraordinary powers – they are Animare which means they can bring art to life – but this unique skill puts them in mortal danger. These page-turning supernatural thrillers also have an educational side featuring real paintings by famous artists represented in galleries across the UK. Discover more about the first two books in the series today.
It's all about books and book-lovers at Lovereading (the clue is in the name) and we are always looking to provide the best ways for you to access great reads. Local bookstores need our support and we thought that as well as guiding you to fabulous books, we could also show you where to get them – if you don't want to use Lovereading's mouse to doormat service. Neat, huh? To find your local bookshop just click the button shown, that you will find on every page.
And that is what's new in May at Lovereading4Kids. We hope we've guided you and your children to some fantastic new books and look forward to seeing you in June with even more great ideas!