Featured Books for 5+ readers
Books of the Month
The Complete Alice Alice's Adventures in Wonderland and Through the Looking-Glass and What Alice Found There
Lewis Carroll

Julia Eccleshare's Book of the Month, July 2015
The classic stories of Alice and her journeys into Wonderland and Through the Looking Glass are celebrating 150 years in...
Featured in: 7+ readers | Alice 150th | Books of the Month | 11+ readers | 13+ readers | 5+ readers | 9+ readers | Julia Eccleshare's Picks
Format: Hardback | Released 04/07/2015
Info
Extract
Wishlist
Compare Price
Buy
Other Featured Books this Month
Last Month's Featured Books
See ALL Authors in this category
See ALL Featured Books (with opening extracts) in this category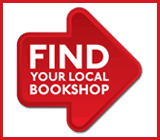 Share this page
Learning to read provides the best opportunity for children to take off privately into worlds of their own.
Picture books and easy readers allow children to go solo while being read to gives a background of richer stories to further stimulate the imagination.
Click here to read some helpful tips from top childrens' publisher Egmont.
---