About the Author
A World Book Day Author 2019
The Children's Laureate
Lauren Child burst on to the children's books scene in 1999 and has since published many bestselling and awardwinning books, including those featuring the hugely popular Charlie and Lola, and the Clarice Bean series. She has won numerous awards including the prestigious Kate Greenaway Medal and the Smarties Gold Award. Her books have been made into an award-winning TV series and have sold in many languages with runaway success.
In December 2008 she was named as a UNESCO Artist for Peace, and was awarded an MBE in 2009.
Lauren Child is the 10th Waterstones Children's Laureate. Of the role she said, "I want to inspire children to believe in their own creative potential, to make their own stories and drawings and ignite in them the delight of reading for pleasure. In an increasingly fast paced world, children need the freedom to dream and imagine; to enjoy reading, drawing and telling their own stories without value judgement or restraint".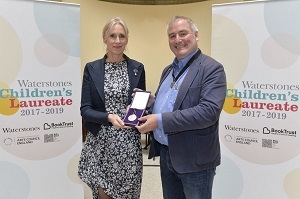 The role of Children's Laureate is awarded every two years to an author or illustrator of children's books to "celebrate outstanding achievement in their field and recognise the important contribution children's literature makes to cultural life". Child's tenure will run until June 2019, which will mark 20 years since the post was inaurgurated by Quentin Blake and since Child published her first book.
Child revealed that that Blake was a huge inspiration to her. "When I was little, it never occurred to me to think of authors and illustrators as actual human beings," she said. "Then I saw Quentin on television live drawing on "Jackanory", so he became a real-life illustrator to me and that made it something it was possible to become."
Other previous post-holders include Anne Fine, Michael Morpurgo, Michael Rosen and Malorie Blackman.