Onjali Q. Raúf - Author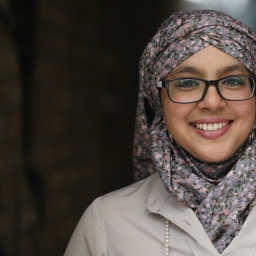 About the Author
Onjali Q. Raúf is the founder of Making Herstory an organisation mobilising men, women and children from all walks of life to tackle the abuse and trafficking of women and girls in the UK and beyond. In her spare time she delivers emergency aid convoys for refugee families surviving in Calais and Dunkirk, and supports interfaith projects.
Her first novel, The Boy at the Back of the Class, won the Waterstone's Children's Prize and The Blue Peter Award.
Other books by Onjali Q. Raúf

9+ readers
11+ readers
I don't think Raúf has put a foot wrong so far with her novels to date – and this is no exception. Told from the interesting perspective of the bully in school, Hector gains our sympathy quite unexpectedly – we can see how and why he gets the blame, often deservedly, but also when it's not really his fault. But when a prank on a homeless person gets out of hand this leads to Hector being befriended - somewhat reluctantly at first, by Mei-Li – who introduces Hector to the shelter she helps in and thus to an understanding of some of the pressures and causes of homelessness. An important social message for all – but this book is also a who-done-it trying to solve mysterious, slightly odd crimes whilst the graffiti left at the scenes of these crimes seem to indicate that homeless people are involved in some way. Can Hector and Mei-Li get to the bottom of these crimes? Can Hector's new understanding help him be less of a bully? Could Hector turn out to be a bit of a hero? Written with great empathy, this book has themes of friendship and kindness whilst celebrating the fact people can change – and often for the better. Another success for Onali J Raúf.

9+ readers
11+ readers
Longlisted for the UKLA Book Awards 2021 | The children are once again front and centre of this author's second book. But like multi-award winning The Boy at The Back of the Class, the foundations of the story are very dark indeed. In this case domestic violence and the murder of Aniyah and Noah's beloved mother. But this is not a grim YA novel. it is a book from the perspective of ten-year-old Aniyah and written for children of the same age so you can be reassured that there is nothing gratuitous or explicit. Aniyah and Noah are in foster care with the remarkable Mrs Iwuchukwu, alongside the grumpy, manipulative teenage Sophie and Travis and Ben who are the same age as her. Aniya has always been fascinated by astrology and she believes that when special people die, they become shining stars in the heavens. When a new star is spotted and behaves in an unexpected way, she believes that this is her Mum and she makes it her mission to ensure that the public competition to name this amazing new star will recognise that truth. Even though Ben and Travis know what really happened to her Mum they are wonderful steadfast friends and they vow to help the mission and not let the awful Sophie ruin the plans. So the madcap adventure begins and every reader will be rooting for the children through one disaster and crisis after another. The children are beautifully depicted, and their relationship and their dialogue is natural and funny. The reader gets gradual hints from flashbacks of what really happened as realisation dawns on Aniya and the reader becomes all too aware of the emotional cost of living in a home soured by domestic violence. But this happens within a safe context. Aniya and Noah have found a haven and a future. Once again this author has given us a warm, funny and poignant read, with a thought provoking serious side, which is perfectly judged and accessible for its audience.

7+ readers
9+ readers
Chosen by Cressida Cowell, Guest Editor May 2020 | Longlisted for the UKLA Book Awards 2020 | Shortlisted for The Branford Boase Award 2019 | Winner the Blue Peter Book Awards 2019, Best Story category | The arrival of a new boy in class sparks a funny, moving and quietly powerful story for young readers. Our narrator – we only discover her name in the last chapter – is immediately intrigued by her new classmate, who doesn't speak, or smile, and disappears at break times. She's determined to become his friend and as she gets to know him learns that Ahmet is a refugee from Syria. Finding out that his family are lost somewhere in Europe she decides to help – something that exposes both the prejudice and generosity of those around her. The plotline is very lively – it includes some excellent comic scenes at Buckingham Palace – and Raúf manages to keep the story positive and uplifting while still illustrating the cruelty and bigotry that refugees face. Our Guest Editor, Cressida Cowell said, "This is a lovely, warm book that is all about kindness, and putting yourself into someone else's shoes."
Author Info
Facebook Updates
If this is your author page then you can share your Facebook updates with your readers right here on LoveReading
Find out more
CHECK OUT OUR INDIE AND SELF PUBLISHED BOOK REVIEW AND PROMOTION SERVICE
Read More
×