TV hosts Ant & Dec are releasing their debut children's book next year to raise money for the NSPCC.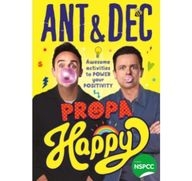 The book will be published on 26th May 2022 ahead of the NSPCC's annual fundraiser, Childhood Day, on 10th June. The book is described as "a fun-filled guide to feeling good for children aged seven and above, packed with games, jokes, anecdotes, challenges and quizzes to make kids smile".
It has been created in consultation with child psychology experts and with guidance from the NSPCC, and includes mental health advice and activities so that children can nurture their emotional wellbeing every day.
All of Ant and Dec's author proceeds from the book will be donated to the NSPCC.
Ant said: "Every child deserves a happy childhood,and the NSPCC rely on fundraising to ensure they can continue to be here for children and families. As NSPCC Ambassadors for Childhood, we wanted to show our support for this fantastic charity and their vital work."
Dec added: "Childhood Day next year is going to be even better and we're thrilled that through the launch of Propa Happy we can encourage children and grown-ups across the UK to come together to fundraise on 10th June and do their bit for children."
Melissa Fairley, publishing director at HarperCollins imprint Farshore commented: "Ant & Dec are national treasures who have spent their career making families laugh and smile. We are delighted to be working with this dream duo on their first children's book Propa Happy, with guidance from the NSPCC. The book will be brimming with positivity and will provide a safe and reassuring space for children to talk about worries and anxieties.
"Farshore's expert insight into reading for pleasure continually demonstrates that reading can have a hugely positive impact on a child's wellbeing. That's why we are so excited by the potential of this book to reach and help children across the UK through the might of our superstar authors as well as giving a much-needed boost in funds for the vital work carried out by the NSPCC. We are Propa Chuffed to be publishing this book."
Image: Jack Davidge