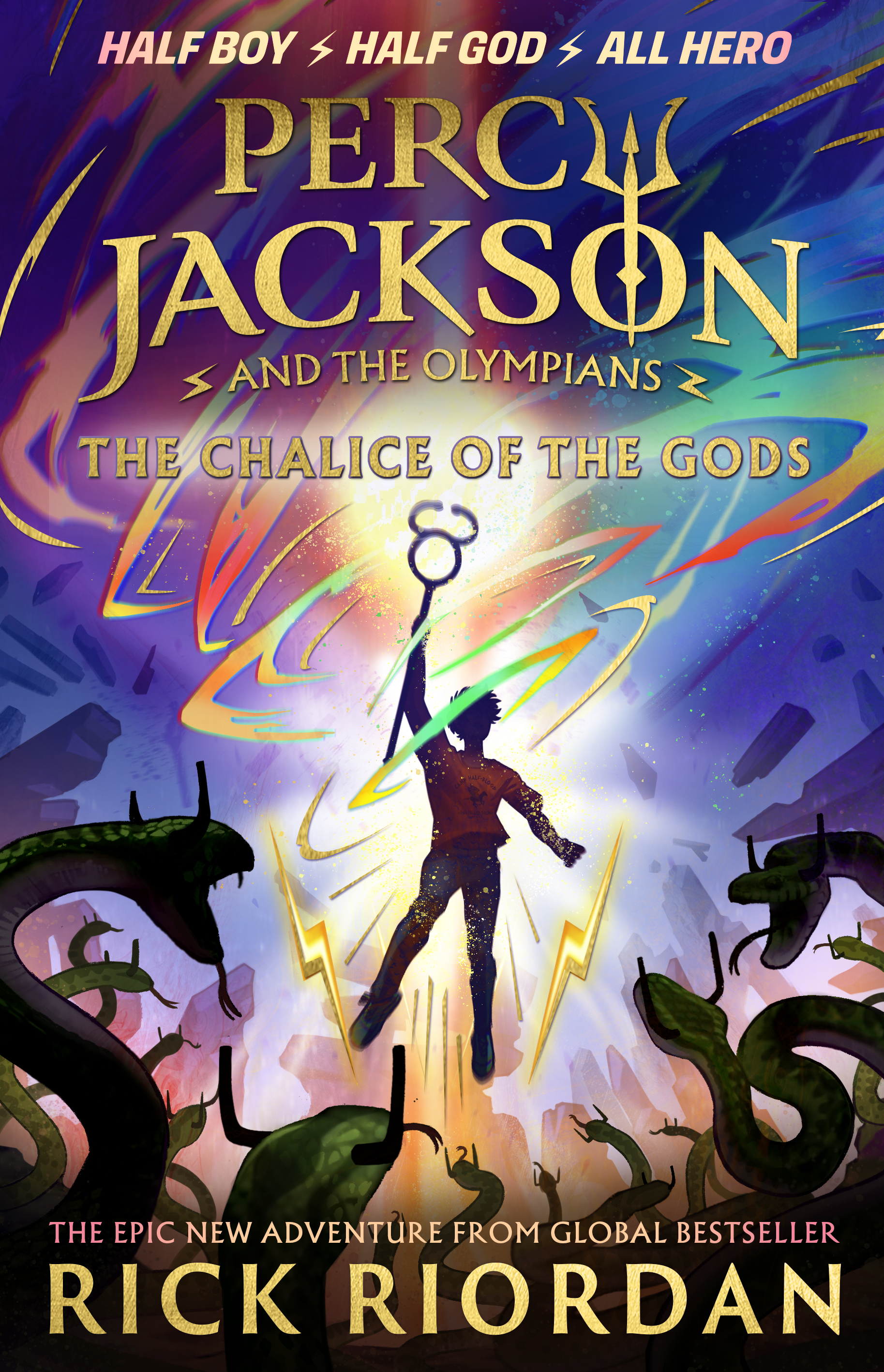 Ahead of a major Disney+ series, Rick Riordan is back in majorly epic, witty style, with a new Percy Jackson adventure, The Chalice of the Gods.
This is Rick Riordan's first full-length, first-person novel from Percy's point of view since The Last Olympian in 2009.
An unexpected treat for long-time fans of the series, this is also the perfect entry-point for readers who've yet to discover the joy of Percy's mythological adventures - and it also works as a superb standalone novel.
We grabbed the chance to ask Rick, dubbed "storyteller of the gods", a few questions about the return to the adventures of Percy Jackson and his demigod friends, as they fight mythological monsters and the forces of the Titan Lord Kronos.
How important was it for you to write The Chalice of the Gods in Percy's unmistakable voice? Was returning to his voice central to the whole idea? What prompted this return?
The book happened because of our involvement with the new TV show. My wife Becky and I went to Hollywood to try to convince Disney to adapt the original Percy Jackson series. As part of that effort, I suggested I might be willing to write new Percy books so that the books could promote the show and vice versa. I sketched out three ideas for new Percy adventures, but it turned out the studio executives didn't need to be convinced. They were excited about the show all on its own. Nevertheless, I was left with those new ideas, and I started to think that writing a new Percy book would be an appropriate 'thank you' to fans and a way to celebrate the TV show.
Both the show and the book are about returning to the origins of Percy Jackson. Related, while Percy is older and trying to get into New Rome University, The Chalice of the Gods retains its pitch-perfect middle-grade tone. How did you balance portraying Percy so well as a young adult on the cusp of college with him still seeming like his familiar self?
It is a challenge to recapture a style of writing and a type of adventure that I haven't tried in so long. But Percy's voice comes naturally to me, and that is the foundation of the story. I paid special attention to the 'slice of life' aspects of this novel, so readers feel like they have a chance to catch up with Percy, Annabeth and Grover as old friends. I am a former middle school teacher, so I wrote Percy Jackson with that age group in mind: roughly 8-14 years old. It is the age I know best, and I think I am strongest as a writer telling stories that target this demographic. I love all my readers no matter what age they are! I always say if you enjoy the books, then you are the right age for them. I have fans from eight years old to eighty years old. That said, I don't try to change the story to fit older readers, because then it would no longer be the same, and I'm not sure I could do it well. Percy is a bit older, yes, but he is still Percy.
How did you come up with the quest Percy is set in The Chalice of the Gods?
I liked the idea of having Percy find Ganymede's missing cup because it seemed like such a relevant dilemma for him. The cup makes mortals immortal, and since Percy has already turned down immortality once, he is the only demigod Ganymede felt comfortable using to find such a dangerous magic item. It also provides Percy and friends a chance to think about what it means to grow older, and how much they've grown up compared to the gods, who never really change.
Will there be a follow-up?
As satisfying as the story is, the ending leaves us longing to know how things turn out down the line! I originally sketched out ideas for three new Percy adventures, so Chalice will only be the first. It would be cruel of me not to see Percy through his high school quests so he can finally get into college! Wrath of the Triple-Goddess, the second adventure, will come out next year.
Finally, can you share any insider news about the upcoming Percy Jackson Disney+ series?
The first two episodes will be available on Disney+ starting Dec. 20, and eagle-eyed viewers may spot my cameo in those episodes. I found the Camp Half-Blood sets particularly impressive, so I'd encourage viewers to check out all the little details our set designers added to the demigods' cabins!

Readers new to Percy Jackson (this book can be enjoyed as a standalone) and fans who have been awaiting this reunion for more than a decade will delight equally in this latest hilarious take on Greek mythology.
The Percy Jackson and the Olympians series has been re-issued with these stunning new jackets - read the stories before the Disney+ series comes out!
Percy Jackson and the Olympians: The Lightning Thief (Book 1)
Percy Jackson and the Olympians: The Sea of Monsters (Book 2)
Percy Jackson and the Olympians: The Titan's Curse (Book 3)
Percy Jackson and the Olympians: The Battle of the Labyrinth (Book 4)
Percy Jackson and the Olympians: The Last Olympian (Book 5)
and the latest thrilling instalment.. Percy Jackson and the Olympians: The Chalice of the Gods (Book 6)