We were lucky enough to be invited by Lovereading4kids to attend the official book launch of Tom Palmer's Wings series at RAF Hendon.
First, we went to the main museum and saw some planes. After that we went to the Grahame-White Hangar and saw the wonderful Sopwith Camel, which is the focus of his book Flyboy. Under this astonishing plane, Tom did his talk about Flyboy. From his talk we learnt many things such as:
He researched people like Hardit Singh Malik, who was the first Sikh pilot to fly in the Royal Flying Corps.
Tom is the RAF Museum's Writer in Residence.
Two more books will follow in this series.
After this we got our books signed and had a photo with Tom. We had more time to explore the museum before we had Afternoon Tea. We had enormous scones filled with
strawberry jam
and
clotted cream.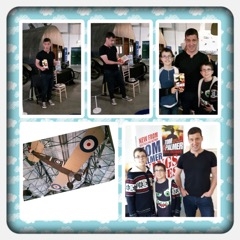 After three taps of a glass, Tom did a little speech about his books. We learnt that his publisher's books (Barrington Stoke) are
great for dyslexic children
and children who suffer from eye stress. They make it easier for them to read the books by using yellow paper, a special large font and big spaces. Thank you Tom Palmer, Barrington Stoke and especially Louise and Shelley at Lovereading4kids.
By Daniel and Alexander.