World Book Day is not only an event that encourages children and teenagers to pick up a book, it offers the chance to make a character come to life. Every year children across the world are invited to come into school dressed as their favourite fictional or non-fictional character in celebration of the written word.
Last year Harry Pottermania was at its strongest with many children opting to come dressed as the popular wizards Hermione and Harry. However, Dorothy and Where's Wally? costumes were also all the rage with children in 2012. Having children dress up as their favourite character can encourage them to drop the remote control in preference to a good book. It can help to involve them in the story, relate to characters, bring the plot to life and incorporate an element of fun into story time.
With the new release of Oz: The Great and Powerful set to come to our cinema screens the following day on 8 March, we expect a lot of girls will be coming into school dressed as witches with glittery red shoes as a prop.
There are many interesting, classic, funny and popular characters that children can dress up as. Harry Potter, the Wizard of Oz and Where's Wally? are but a few of them. From The Very Hungry Caterpillar to Little Red Riding Hood among many others, the characters your child could dress as are plentiful.
As a parent you have the choice of either buying an outfit or helping your child bring a character to life by making the costume at home. There are a couple of costumes that you can make that won't take up too much time, money or resources. Take Where's Wally? for instance,  all you need to find is a red striped top and matching tights, round glasses, a red and white hat and either a blue skirt or trousers; you're sure to have at least one, if not two of these items in your child's wardrobe. If not, then buying an outfit might be the best option.
Another character costume that you might be interested in creating at home is Alice in Wonderland. Written by Lewis Carroll, Alice's adventures in Wonderland have captured the imaginations of millions and to this day remains one of the most popular children's books. If your child has a blue dress lying around, simply accessorise it with a white apron and a black bow headband, and there you have it, the perfect World Book Day ensemble.
There is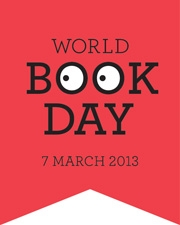 something magical about opening a book to become immersed in someone's story. As you turn the pages you can quite easily find yourself travelling with the characters on their extraordinary adventures and discovering new tales that will live with you for a lifetime. Once you find that one book you can't put down you're sure to want to read similar books and encourage others to do the same. World Book Day isn't just for children; everyone no matter your age should uncover an astonishing story on 7 March.
You will find a myriad of costumes for World Book Day on AFD.  From children's outfits to teenager and adult costumes, the whole family can join in all the fun of World Book Day.