LoveReading View on Charlotte's Web
How a wise spider saves a young pig from slaughter is the most touching of animal stories. Fern saves Wilbur, the runty little piglet of the litter from her father's axe and promises to look after him. Fern finds Wilbur a safe home in her uncle's barn where he meets Charlotte, the remarkably wise spider, who, with the help of some sheep, a goose and goslings and Templeton the rat set about saving the young pig from being fattened for slaughter. And they do!
Perfect for Reluctant Readers as well as keen readers. To view other titles we think are suitable for reluctant readers please click here.


"It's beautiful, tough, deeply moving and it'll be read for ever." David Almond
_____________
Puffin Fact! In 2010, forty-two of the original Garth Williams illustrations for Charlotte's Web were put up for sale at a New York auction, and fetched a combined total of £487,927. Download more Puffin Facts here!
_____________
Dear readers, dreamers and adventurers,
Ever wanted a friend who could take you to magical realms, talk to animals or help you survive a shipwreck? Well, you'll find them all in the PUFFIN BOOK collection.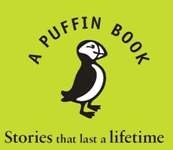 A PUFFIN BOOK will stay with you forever. Maybe you'll read it again and again, or perhaps years from now you'll suddenly remember the moment it made you laugh or cry or simply see things differently. Adventurers big and small, rebels out to change their world, even a mouse with a dream and a spider who can spell - these are the characters who make stories that last a lifetime. Whether you love animal tales, war stories or want to know what it was like growing up in a different time and place, the A PUFFIN BOOK collection has a story for you - you just need to decide where you want to go next...
We want to know which is your favourite. Tell us or tweet a photo of your old beloved copy - and we might just send you a new A PUFFIN BOOK so you can pass the story on.
Love - PUFFIN @puffinbooks #shareapuffinbook

Charlotte's Web Synopsis
This is the story of a little girl named Fern who loved a little pig named Wilbur and of Wilbur's dear friend, Charlotte A. Cavatica, a beautiful large grey spider. With the unlikely help of Templeton the rat, and a wonderfully clever plan of her own, Charlotte saves the life of Wilbur, who by this time has grown up to be quite a pig. It is a time-honoured classic favourite.
For more information about the author, E.B. White, a story quiz and a make & do word web download a Special Puffin Extra