About the Author
Guy Bass grew up dreaming of being a superhero – he even had a Spider-Man costume. The costume doesn't fit anymore, so Guy now contents himself with writing and drawing the occasional picture. He writes the Gormy Ruckles series for Scholastic UK, as well as the popular Dinkin Dings series for Stripes. In 2010, Dinkin Dings and the Frightening Things won a CBBC Blue Peter Book Award in the "Most Fun Story with Pictures" category. Guy lives in London with his wife.
A Q&A with the Author
Where did the idea for the Stitch Head series come from? I wanted to write a gothic monster / mad professor story. The initial idea was about two leftover body parts from the professor's experiments - an arm and leg - which were alive, and understandably resented their lot! As it turns out, living limbs are considered a bit much for children's fiction, and I was rightly asked to think again. Then I started to wonder how this mad professor got started. Maybe his first creation wasn't all that monstrous or scary or impressive; maybe it had been forgotten, like an old toy, and longed to be remembered. I did a sketch of a little creature with stitches all over his face and things started to fall into place.
Apart from Stitch Head, who have been your favourite characters in the series? Arabella is fun to write. She became a major character almost by accident. She's everything Stitch Head isn't – rash, brash, and recklessly bold – and she approaches every problem by kicking it in the nose. The Creature is great when I want to give Stitch Head something to worry about. It always turns up at the right moment and does the wrong thing – the perfect storm of good intentions and terrible execution.
When you started the series did you know how many you would be writing? It was initially a one-book contract so I did sort of think that was that. I crammed so much into that first story, but ended up having to trim a lot. What I took out became the basis of the second book, and by the time I'd written that I had book three plotted, and so on.
Stitch Head has recently been voted by kids as one of the best Children's books, how did this make you feel? Gobsmacked, incredulous and humbled, in that order. Everybody involved in Stitch Head put in heaps of work into it, so I'm so chuffed people like it. That vote meant a lot, especially as there was no shortlist. Bonkers. Plus, it was good to know all those bribes paid off.
Sadly this is the last book in the Stitch Head series, but do you have any other books coming? I don't know how to spell a drum-roll, but I'm making the sound... my new series is called SPYnosaur. I'm really excited about it. It's your classic secret-agent-gets-his-brainwaves-put-into-the-body-of-a-dinosaur-and-teams-up-with-his-daughter-to-battle-international-criminal-masterminds. With added monkeys.
Guy Bass on his recent novel for reluctant and struggling reads Noah Scape:
1. Can you describe Noah Scape Can't Stop Repeating Himself in 5 words?
When Noah doubles there's trouble.
When Noah doubles there's trouble.
When Noah doubles there's trouble.
When Noah doubles there's trouble.
When Noah doubles there's trouble.
2. What was the inspiration for writing the book?
The name was the starting point. I wanted to write a "be careful what you wish for" story, with Noah deliberately deciding to start doubling but it soon spirals out of control to become a situation he can't escape. There is something appealing about the idea of there being one more of you, or four of you, or eight, or a hundred ... but when everyone's the same, it's a sadder world. At the beginning of the story, Noah's so set in his ways that he rejects other people's ideas and opinions but the more he duplicates, the more he realises that difference makes life interesting. Difference and dinosaurs.
3. You could say that Noah is a bit of a difficult student... What were you like at school? Were you as demanding as Noah?
I wish I had been - demanding, not difficult. I was really quiet at school. So quiet that I'm pretty sure I could have turned invisible and I pretty sure no one would have noticed. Which is just one of the two hundred super powers I wished I'd had as a child. I spent every school assembly daydreaming about floating into the air and out of the window. My memory's hazy but i'm almost convinced it never actually happened.
4. We love Steve's artwork and he's said he just might have broken the record for drawing the same character again and again and again! What version of Noah is your favourite?
It's an impressive record! My favourite's one of the (many) Noahs on page 51. He's far off in the background, holding a balloon and looking strangely sinister. Thanks to horror films it's now impossible to hold a balloon and not look evil.
5. Noah loves nothing more than talking about dinosaurs and eating spaghetti with tomato sauce. What two things do you wish everyone loved as much as you do?
Comic books and cheese fondue.
6. Finally, we'd love to see the spot where all your characters come to life. Can you show us a picture of where you write?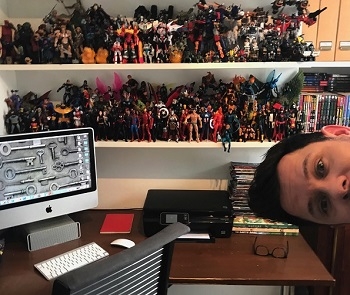 I should point out that my main problem with writing books is the isolation. As you can see, I found a solution - you're never alone with a thousand lifeless painted eyes staring down at you. Oddly, the toys on my shelves seem to have doubled recently. Maybe that's where the real inspiration for Noah Scape came from.
Photo credit Elizabeth Gibson