Rebecca Patterson - Author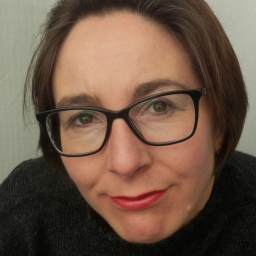 About the Author
Rebecca Patterson grew up in Bolton, and studied fashion due to a love of fashion illustration. After graduating, she worked at an assortment of jobs, including being an classroom assistant in a primary school. Once her own children had started school, Rebecca began an MA in Children's Book Illustration at the Cambridge School of Art and had her first picture books commissioned at the end of the course. Rebecca's work is inspired by her own childhood and her children's lives. She is the 2012 winner of the Roald Dahl Funny Prize. She lives in Cambridge.
Featured books by Rebecca Patterson

5+ readers
7+ readers
April 2020 Book of the Month | Lyla might live in a hi-tech future world in which the moon is colonised and robots a big part of daily life, but the things that really matter are the same they've always been: friends, family and learning how to treat them properly. It's very exciting when Lyla is chosen to look after one of three top-of-the-range cyborg children joining her school and at first Clara 2.2 seems the perfect friend, telling Lyla just what she wants to hear. But real friends do more than pay you compliments, and Clara 2.2's disregard for anyone other than Lyla soon leads to a fall out with Lyla's best friend Bianca and then – much worse – puts Lyla's little brother in danger. There's lots of fun and humour in the story, but some real tension too and it cleverly delivers a message about what friendship really means, and the importance of kindness.

5+ readers
7+ readers
March 2019 Book of the Month | The setting for Rebecca Patterson's lively story of friends falling out is Earth eighty years in the future, and quite a lot has changed. People are getting around in flying cars, real food has pretty well been replaced by acquagrown substitutes, and the Moon has been colonised. The school playground is patrolled by cyborgs, but the children in it are the same as they've ever been. Lyla has been best friends with Bianca since nursery, but when a cool new girl joins the class, she finds herself pushed out. How can she win back her friend, and why does no-one see just how mean Petra is? The story is short and full of humour, but still carries a lot of weight and for all the fun and adventures will set readers thinking about how we treat other people, and how we'd like to be treated in return. This is a really good story for newly confident readers.

3+ readers
Winner of the Roald Dahl Funny Prize 2012 - aged six and under. Bella's biscuit is broken, she has a hurting foot and ballet is too itchy for words. All she can do is shout. But by the end of the day, when she's all tired out from being shouty, Bella knows there's one magic word and one magic mummy to make things better again...
Author Info
Facebook Updates
If this is your author page then you can share your Facebook updates with your readers right here on LoveReading
Find out more
CHECK OUT OUR INDIE AND SELF PUBLISHED BOOK REVIEW AND PROMOTION SERVICE
Read More
×