Catherine Doyle - Author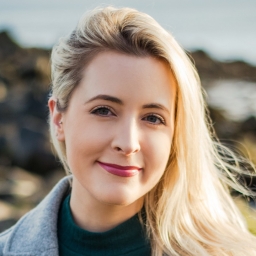 About the Author
Catherine Doyle grew up beside the Atlantic Ocean in the west of Ireland. Her love of reading began with great Irish myths and legends, and fostered in her an ambition to one day write her own. She holds a first class BA in Psychology and a first class MA in Publishing from the National University of Ireland, Galway. The Storm Keeper's Island is her debut middle-grade novel and was inspired by her real-life ancestral home of Arranmore Island, where her grandparents grew up, and the adventures of her many sea-faring ancestors. After living in Dublin City for two years, Catherine is now based in Galway but spends a lot of her time in London and the US. Follow her on Instagram
Photo credit Julia Dunin
Featured books by Catherine Doyle

9+ readers
11+ readers
July 2019 Book of the Month | Winner of the BAMB Reader's Award for Middle Grade Fiction | Shortlisted for the Irish Book Awards | A Julia Eccleshare Pick of the Month July 2019 | A fabulous new adventure for Fionn Boyle, the new Storm Keeper of the windswept and magical island of Arranmore. Fionn has only recently inherited his role and title from his grandfather. He knows his powers are still only fledgling and certainly not strong enough to resist the powerful magic of Morrigan the terrible sorceress who longs to take control. When Fionn sees thousands of the terrifying Soulstalkers arriving on the island by ferry he knows that an almighty battle for control of the island is about to take place. Can he find the lost army? And can he and the islanders hold strong against Morrigan and her power? Catherine Doyle has added a thrilling new chapter to The Storm Keeper's Island, her first story about Fionn and the amazing island of Arranmore.

9+ readers
11+ readers
Swept along by the wind and sea and suffused with magic and mystery this is an ebullient adventure story that compels its readers to believe just as the young hero Fionn begins to do. Sent to stay on the wild Arranmore Island with his reclusive grandfather, Fionn enters a world dominated by the forces of magic – and by water which has always terrified Fionn. Gradually, Fionn begins to understand his grandfather's now fading power as to accept and embrace his own new destiny. Catherine Doyle has a lightness of touch as a story-teller that makes the impossible convincing. July 2018 Debut of the Month | A Julia Eccleshare Pick of the Month July 2018 Books in The Storm Keeper Trilogy Series: 1. The Storm Keeper's Island 2. The Lost Tide Warriors 3. The Storm Keepers' Battle (March 2021)

13+ readers
January 2015 Debut of the Month This Romeo and Juliet story throbs with passion and mystery from the opening chapter to the very end! Sophie Gracewell is on her way home from her job at the family diner when she runs into (literally) Nic Falcone, dark, Hollywood handsome and oh so troubled. He and his brothers have just moved into the neighbourhood's spooky old house and it's clear from the beginning that they're hiding something. But then Sophie's cupboards too have enough skeletons to form a small rattling army. As Sophie falls in love with Nic, the dark secret that links their families emerges. Love, romance, mystery and adventure are present in equal measure, all conveyed in a series of vivid tableaux, that conclude with an edge of your seat thrilling final scene. ~ Andrea Reece A Piece of Passion from Barry Cunningham, Publisher This is one of the best movies I've ever read. Seriously. From the very beginning Catherine Doyle guides you through those early scenes like a cool director, with awesome pictures-in-words and fantastic dialogue. Then I begin to worry for the girls – and the boys begin to scare me. Then – never mind, you'll see. Of course this is a book, so we'll all see our own movies in our heads and that's great too. Catherine Doyle is impossibly young, wildly talented and Vendetta is a romantic thriller to die for. Oh no, did I really write that?
Facebook Updates
If this is your author page then you can share your Facebook updates with your readers right here on LoveReading
Find out more
NEW INDIE AND SELF PUBLISHED BOOK REVIEW AND PROMOTION SERVICE LAUNCHED!
Read More
×