Jo Simmons - Author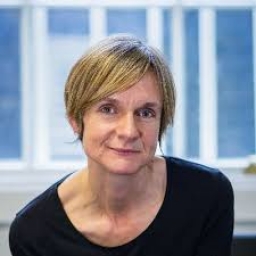 About the Author
Jo Simmons began her working life as a journalist. Her first fiction series for children, Pip Street, was inspired by her own kids' love of funny fiction, and two Super Loud Sam books followed. My Parents Cancelled My Birthday is Jo's third book for Bloomsbury. In addition to children's fiction, she has also cowritten a humorous parenting book, Can I Give Them Back Now?: The Aargh To Zzzz of Parenting, published by Square Peg.
Jo lives in Brighton with her husband, two boys and a scruffy formerly Romanian street dog.
Featured books by Jo Simmons

7+ readers
9+ readers
From the creator of I Swapped My Brother On The Internet comes this fizzily energetic feast of fun that sees aspiring inventor Keith get more than he bargained for after entering a Junior Mega Brain Quiz and winding up competing against his genius sister. Keith is one of life's dreamers, and something of an underdog readers will really root for. He has his sights set on going to an Inventors' Fair in Paris, but his mum and dad just don't have the cash. Never one to let a problem stand in his way, Keith observes how his super-smart sister Minerva (appropriately named after the Roman goddess of wisdom) has won money for some of her many achievements. And so, while "there was no Roman god Keith", our ever-hopeful hero hits on the idea of inventing a machine to steal Min's brain so he can win a Junior Mega Brain Quiz and use the prize money to pay for Paris. From attempting to drink coffee while wearing a child-genius outfit (black leggings, black polo neck and giant sunglasses), to becoming an instant TV hit with a hashtag and band of devoted followers, Keith's story is a hilarious, heart-warming delight from start to finish, and a great read for readers who loved David Solomons's My Brother is a Superhero series.

7+ readers
9+ readers
Jo Simmons' new book had me laughing out loud more than once and kids will love it too. Due to numerous family crises, Tom's super-important 11th birthday party is on hold, so he takes matters into his own hands planning a party and ways to cheer up his family. If I tell you that this involves a DIY gladiatorial contest, some chicken whispering, and bacon sarnies raining down from the sky, you'll realise why the eventual party really is unforgettable. An absolute hoot and great on the dynamics of family life too.

9+ readers
In a nutshell: very funny, very true story of family dynamics Be careful what you wish for, and blood is thicker than water – both lessons to be learned from this very funny story of sibling rivalry and love. Jonny is fed up with big brother Ted's teasing, and website www.siblingswap.com seems to offer a way out. In just a few clicks Jonny's arranged to swap Ted for a more suitable brother (though with hindsight he should probably have ticked the boxes 'living' and 'human'). Overnight Ted has gone, and a new brother is on the doorstep. To Jonny's surprise, none of the brothers he receives match up to Ted, and some are downright dreadful. It's great fun, the succession of brothers keeps the action moving at top-speed, as Jonny gradually realises how much he's missing Ted. Illustrations by Nathan Reed add to the fun, and this is a great read for anyone with a sibling. One to recommend to fans of My Brother is a Superhero by David Solomons and The Parent Agency by David Baddiel. ~ Andrea Reece
Author Info
Facebook Updates
If this is your author page then you can share your Facebook updates with your readers right here on LoveReading
Find out more
CHECK OUT OUR INDIE AND SELF PUBLISHED BOOK REVIEW AND PROMOTION SERVICE
Read More
×