Roshani Chokshi - Author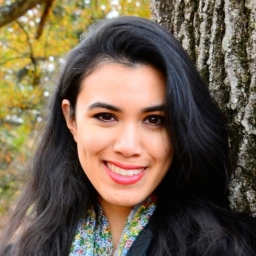 About the Author
Roshani Chokshi is the author of the instant New York Times best-selling novel The Star-Touched Queen and its companion, A Crown of Wishes. She studied fairy tales in college, and she has a pet luck dragon that looks suspiciously like a Great Pyrenees dog. Aru Shah and the End of Time, her middle-grade debut, was inspired by the stories her grandmother told her, as well as Roshani's all-consuming love for Sailor Moon. She lives in Georgia and says y'all, but she doesn't really have a Southern accent, alas. Follow her on Instagram.
Read a Q&A with the author here.
Featured books by Roshani Chokshi

9+ readers
11+ readers
Aru is only just getting the hang of this whole Pandava thing when the Otherworld goes into full panic mode. The god of love's bow and arrow have gone missing, and the thief isn't playing Cupid. Instead, they're turning people into heartless fighting-machine zombies. If that weren't bad enough, somehow Aru gets framed as the thief. If she doesn't find the arrow by the next full moon, she'll be kicked out of the Otherworld. For good. But, for better or worse, she won't be going it alone. Along with her soul-sister, Mini, Aru will team up with Brynne, an ultra-strong girl who knows more than she lets on, and Aiden, the boy wholives across the street and is also hiding plenty of secrets. Together they'll battle demons, travel through a glittering and dangerous serpent realm, and discover that their enemy isn't at all who they expected.

9+ readers
11+ readers
Aru Shah is an average twelve-year old, not particularly attentive at school, but keenly aware of the importance of fitting in, which sometimes leads her to lie to impress her classmates. So when she's caught out at home in her Spider-man pyjamas, not Paris as she'd claimed, she does the only thing she can to reclaim credibility and lights the cursed lamp her mother has told her always to avoid. That awakens a demon who in turn aims to wake up the Lord of Destruction, and bring about the end of the world. Only Aru and another kid Mini can stop it. It helps that they're both reincarnations of the Pandava brothers and descended from the gods, and that they have a pigeon-shaped divine sidekick, Boo. Their adventures are as thrilling as any of Percy Jackson's as they face a terrifying set of monsters all out to kill them. It makes great reading, and Aru keeps up a running commentary that is very funny indeed.
Facebook Updates
If this is your author page then you can share your Facebook updates with your readers right here on LoveReading
Find out more
CHECK OUT OUR INDIE AND SELF PUBLISHED BOOK REVIEW AND PROMOTION SERVICE
Read More
×