James Campbell - Author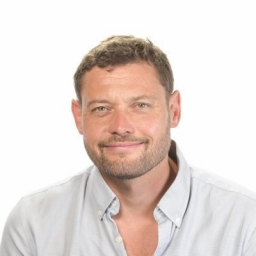 About the Author
Soon after discovering he could not be a duck James Campbell decided to make children laugh for a living. He now travels around primary schools and literary festivals, telling funny stories and encouraging children to write their own stuff.
James has been on the BBC1 show, Child of Our Time, and CBBC's Blue Peter, where he taught children how to craft their own jokes. Kids love him so much that he has his own Comedy4Kids show called The Funny Thing About... where he talks about this hilarious new book.
Featured books by James Campbell

7+ readers
9+ readers
Written by a top comic for kids and the author of The Funny Life of Pets, James Campbell's Write Your Own Funny Stories is a stimulating how-to guide to writing your own "sizzlingly stupendous stories". Packed with dozens of fun suggestions for generating ideas, from drawing on the Inspiration Elf, to acting out characters, this is an interactive feast of inspiration and encouragement, with guided activities and space to write alongside longer accounts of the likes of boredom (and how to banish it), the shape of stories, and the "story rainbow", a fun, fresh way to frame the interplay between plot, characters, setting and style. The summaries of things that are funny and how to make them funnier are both (ahem) funny and useful, and Rob Jones's illustrations bring plenty to the party too - cool, comic, and cleverly integrated with the animated text.

7+ readers
9+ readers
You'd expect a book by top comic-for-kids James Campbell to make them laugh a lot, and this certainly will. Over 240 illustrated pages he explores the life of pets, in ways that range from the anecdotal to the surreal. Though it's definitely not an information book, there are some truths slipped in – e.g. Byron took his pet bear to Cambridge University with him – but mostly it's sheer stream-of-consciousness what-if musings and if it's unlikely to make readers laugh so much that their knees will fall off, as the cover claims, it will at the very least shake them loose! Illustrator Rob Jones deserves a shout out too for his inventive and varied cartoons.
Author Info
Facebook Updates
If this is your author page then you can share your Facebook updates with your readers right here on LoveReading
Find out more
CHECK OUT OUR INDIE AND SELF PUBLISHED BOOK REVIEW AND PROMOTION SERVICE
Read More
×