Jakob Wegelius - Author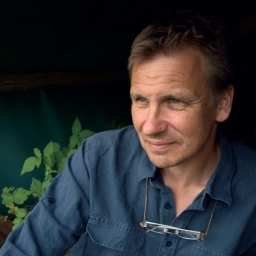 About the Author
Jakob Wegelius is a Swedish writer and illustrator who lives and works in the small village of Mörtfors. In Sweden, he was awarded the August Prize for Best Children's Book and the Nordic Council Children and Young People's Literature Prize for The Murderer's Ape. It won the leading children's book prizes in Germany and France and is also an International Youth Library White Raven selection. Pushkin Children's will also publish The Legend of Sally Jones.
Jakob Wegelius (c) Lena Sjöberg
Featured books by Jakob Wegelius

11+ readers
This is the third book in the many adventures of Sally Jones and the Chief abord their beloved steam ship – the Hudson Queen. This volume is set mainly on land, though, but with sea and canal-going journeys, too. When The Chief and Sally Jones find a unique and very valuable pearl necklace with a beautiful rose charm on it, they set off to restore the necklace to the person it was intended for – one Rose. Their journey takes them to Glasgow – and to a particularly awful set of gangsters, thieves, and rogues – who hold Sally Jones hostage as The Chief is forced to take a sailing boat to waters just off the USA – carrying illicit whisky! Sally must use all her strength and character to stay safe, knowing The Chief will return and must be able to find her again. Sally the ape is a wonderful character – full of compassion and empathy – counterpointing the awfulness of many of the heartless human villains. The tale takes us to many well drawn locations – from Lisbon to Glasgow, Shetland and even the pearl industry in the South Seas. A book like this is a rare treat for readers a flowing style underlines how beautifully it is written and translated, full of compassion, humour, and adventure. There are beautiful, coloured end papers, drawn by the author, as well as detailed chapter heads and full-page illustrations at the start of each section of the story. A gallery of the characters portraits starts the book – and we are immediately intrigued as to how all they all fit together! A thoroughly enjoyable read – recommended for fans of the slightly unusual.

11+ readers
Shortlisted for the UKLA Book Awards 2019 | Sally Jones is not only a loyal friend, she's an extraordinary individual. In overalls or in a maharaja's turban, this unique gorilla moves among humans without speaking but understanding everything. She and the Chief are devoted comrades who operate a cargo boat. A job they are offered pays big bucks, but the deal ends badly, and the Chief is falsely convicted of murder. For Sally Jones this is the start of a harrowing quest for survival and to clear the Chief's name. Powerful forces are working against her, and they will do anything to protect their secrets.
Twitter Updates
If this is your author page then you can share your Twitter updates with your readers right here on LoveReading
Find out more
Facebook Updates
If this is your author page then you can share your Facebook updates with your readers right here on LoveReading
Find out more
CHECK OUT OUR INDIE AND SELF PUBLISHED BOOK REVIEW AND PROMOTION SERVICE
Read More
×