Jim Helmore - Author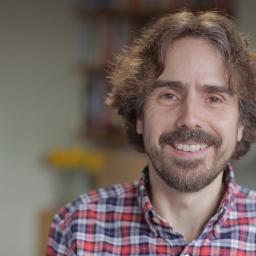 About the Author
Born in the west country, Jim now lives in London and works in the licensing industry. He has written several picture books, including the award winning Letterbox Lil and Stripy Horse series. In his spare time Jim loves to grow vegetables and this gave him the idea for a seriously splatty story: Oh No, Monster Tomato! RJ grew up in Leamington Spa before moving down to Devon to study illustration at the University of Plymouth in Exeter and never went home again! After finishing his degree he stayed on to complete a P.hD. While working on his thesis he got a 'temporary job' in Exeter's Central Library and somehow found himself working there for more than ten years. When not at his desk he enjoys bobbing about in the sea, swimming in rivers, walking in woods, listening to audiobooks on the bus and stroking the cat. He now works full time as an author and illustrator.
Read a Q&A with the author here.
Featured books by Jim Helmore

3+ readers
5+ readers
June 2019 Book of the Month | This beautifully observed story will resonate with children and adults alike and will repay reading over and over. Mia and Ben are best friends – the joy of their relationship perfectly depicted in Richard Jones's illustrations which are full of the details of children's lives but with a richness of colour and texture and composition that heightens the emotions. Everything changes when the sort of domestic tragedy familiar to lots of children happens – Ben's family move away. At first the two are lonely and sad, but the story shows that their friendship still connects them and always will. Powerful feelings are expressed delicately and poignantly through words and pictures and this is an outstanding picture book.
Author Info
Facebook Updates
If this is your author page then you can share your Facebook updates with your readers right here on LoveReading
Find out more
NEW INDIE AND SELF PUBLISHED BOOK REVIEW AND PROMOTION SERVICE LAUNCHED!
Read More
×