Fifi Kuo - Author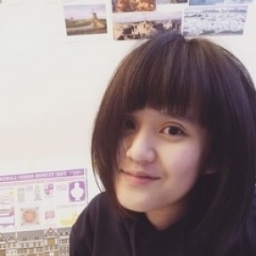 About the Author
Fifi is originally from Taiwan where she did a BA in Landscape Architecture Design. She followed this with an MA in Illustration at the Cambridge School of Art. Since graduating, she has won Bronze in the Macmillan Prize, merit in the iJungle Illustration Awards and has also been shortlisted for the AOI Worlds Illustration Award. She has an eye for humour and characterisation and loves to observe people. When not people watching, she likes to watch her hamster and drink Japanese Green Tea Lattes. She likes the rain because it reminds her of the UK, and talks to herself when she draws!
Featured books by Fifi Kuo

3+ readers
5+ readers
7+ readers
The third book from highly talented newcomer Fifi Kuo, this is an irresistible tribute to the joy of drawing. On each page a group of lively little boys and girls have fun with different types of illustration – finger painting, using felt tips and paints, making collages, even sewing. The message is clear – everyone can draw, creativity and self-expression are for us all, and it's fun. The compositions are different on every page and there are separate little stories to follow throughout. A joyful read certain to inspire creativity.

3+ readers
5+ readers
The search for a perfect sofa told very simply with few words but huge, colourful illustrations, full of gentle humour.

Baby and Toddler
3+ readers
Longlisted for the UKLA Book Awards 2020 | Shortlisted for the Klaus Flugge Prize 2019 | Penguins are popular subjects for picture books, but even I Can Fly stands out for sheer charm and emotional impact. Little Penguin longs to fly and believes he can, even though everyone explains he can't, including his dad. Only when he falls into the water does he discover what penguins can really do, and his dad is at his side. The theme of valuing what we have is always important and Kuo's pencil drawings are quite simply superb, catching every emotion so that we understand exactly what Little Penguin is feeling, as well as what it would be like to fly through the water. Gorgeous.
Twitter Updates
If this is your author page then you can share your Twitter updates with your readers right here on LoveReading
Find out more
CHECK OUT OUR INDIE AND SELF PUBLISHED BOOK REVIEW AND PROMOTION SERVICE
Read More
×