A. J. Hartley - Author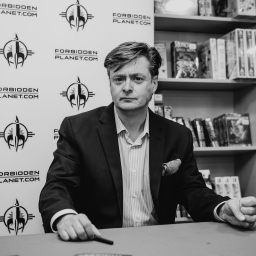 About the Author
Author A. J. Hartley is the bestselling writer of mystery/thriller, fantasy, historical fiction, and young adult novels. He was born in northern England, but has lived in many places including Japan, and is currently the Robinson Professor of Shakespeare studies at the University of North Carolina, Charlotte, where he specializes in the performance history, theory and criticism of Renaissance English drama, and works as a director and dramaturg.
Other books by A. J. Hartley

9+ readers
11+ readers
This exhilarating sequel to Monsters in the Mirror follows 11-year-old Darwen's second fantastical quest. In possession of a magical mirror that acts as a powerful portal to the breath-taking realm of Silbrica, Darwen previously defeated a host of monsters that came through the mirror. He must now journey to spectacular Costa Rica to battle a terrifying tentacled beast. The stakes are high, the action is perfectly paced, and the friendship between Darwen and his companions is authentic and engaging. Alongside these essential ingredients of Middle Grade adventure, the evocation of nature and landscape is wonderful – the "rainbow-coloured waterfall, which strobed first turquoise, then emerald green, then a yellow bright as liquid gold"; trees sprouting "slim, silvery leaves that rustled like foil in the breeze". Moreover, not only is this a gripping adventure, but it's visually pleasing too - invitingly-designed and further enlivened by Manuel Šumberac's atmospheric illustrations.

13+ readers
YA readers
Preston Oldcorn is in a desolate void between life and death. In order to save his soul he must brave his greatest fear – Cold Bath Street. A ghost, gothic thriller that will keep you gripped to the end.

Anglet Sutonga is more realistic than most teenagers, but still dreams of rising above the impoverished streets of Bar-Selehm. When an opportunity comes along, will she take it? And what does she risk in order not to throw away her shot? A novelette set before the events of A.J. Hartley's Steeplejack.At the Publisher's request, this title is being sold without Digital Rights Management Software (DRM) applied.
Facebook Updates
If this is your author page then you can share your Facebook updates with your readers right here on LoveReading
Find out more
NEW INDIE AND SELF PUBLISHED BOOK REVIEW AND PROMOTION SERVICE LAUNCHED!
Read More
×