Blake Nuto - Author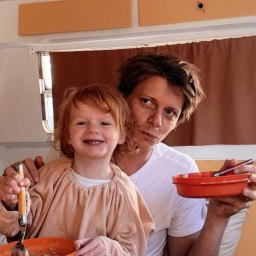 About the Author
Blake Nuto is a primary trained teacher with a deep love of children's literature and a desire to integrate philosophy and mindfulness into education. This is his first book. He currently lives and works in Tasmania.
Featured books by Blake Nuto

3+ readers
5+ readers
June 2020 Debut of the Month | This book takes a poetic look at what it means to be alive. Nuto is a debut author – a teacher in Tasmania, who asks some of the big questions about who we all are, about friendship and our place in the universe. It's the sort of book that will be a bouncing off point for lots of discussions – but is presented in an accessible and colourful format. Charlotte Ager's naïve style of illustration means it will appeal across the very young and the not so young. The bold illustrations offer colour and shade in big pictures. Starting with the big questions – that we are made of the stuff of stars, and that we are tiny in comparison to the universe, it goes on to show we have the means to explore, to be both positive and negative. It shows that though we are a small short-lived speck we have the ability to change the world for the better. There are some glorious illustrations – full of colour, detail and action, as well as others that are more contemplative. A good book to have in your classroom!
Author Info
Facebook Updates
If this is your author page then you can share your Facebook updates with your readers right here on LoveReading
Find out more
NEW INDIE AND SELF PUBLISHED BOOK REVIEW AND PROMOTION SERVICE LAUNCHED!
Read More
×