Tomos Roberts - Author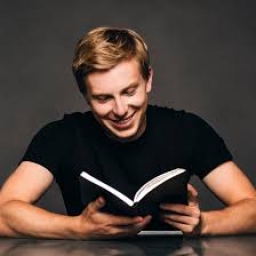 About the Author
Tomos Roberts, also known as Tomfoolery, is a spoken word poet, performer and filmmaker, born in New Zealand and brought up in London. He launched his YouTube platform on 22 March 2020 and, just five weeks later, uploaded a performance of 'The Great Realisation', featuring a cameo from his seven-year-old brother. The video has since been viewed over 60 million times. Tomos has been interviewed on This Morning, by Phillip Schofield and Holly Willoughby, and his story has been reported all over the world, including in the Daily Mail and the Washington Post. Celebrities including Jennifer Aniston, Kristen Bell, Drew Barrymore, Khloe Kardashian and Jake Gyllenhaal have praised his heartfelt work. Tomos lives in London.
Featured books by Tomos Roberts

7+ readers
9+ readers
11+ readers
The Post-Pandemic Poem That Has Captured the Hearts of Millions | Written in the form of a bedtime story, The Great Realisation is a celebration of the many things - from simple acts of kindness, to applauding the heroic efforts of our key workers - that have brought us together at a time of global crisis. It has captured, with magical resonance, the thoughts and feelings of millions in lockdown, as we adapt to a new way of life, find joy in unexpected places, cast aside old habits and reflect on what truly matters to us.
CHECK OUT OUR INDIE AND SELF PUBLISHED BOOK REVIEW AND PROMOTION SERVICE
Read More
×