Neill Cameron - Author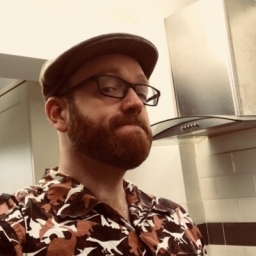 About the Author
Neill Cameron is a cartoonist and writer, creator of the award-winning Mega Robo Bros and How to Make Awesome Comics. Since 2011 his work has appeared in the weekly children's comic The Phoenix, where he produces - amongst other things - the robotic soap opera comedy Mega Robo Bros, and (with artist Kate Brown) the Cornish-set fantasy drama Tamsin and the Deep.
Neill is also currently artist in residence at The Story Museum in Oxford, where he has contributed several large-scale comic strip installations and is involved in comics-based education and activities.
Featured books by Neill Cameron

5+ readers
7+ readers
January 2021 Debut of the Month | Some readers will already be familiar with robot Freddy, who stars in Neill Cameron's Mega Robo Bros cartoon strip, but everyone will find masses to enjoy in this new series. Freddy's robot superpowers include the ability to fly, use lasers and super-strength but none of these talents are appreciated by the teachers at the primary school he attends and indeed, after he accidentally flies through the staffroom window, the head introduces a robotic code of conduct which forbids all of the above, with a 'three strikes and you're out' penalty clause too. Freddy tries, he really does, but it's not easy being the only robot in his class. Plus, his friend Fernando has lots of ideas for games that lead to trouble, and then when the two fall out, Freddy finds himself partnered with someone who instigates even more bad behaviour. The inevitable third strike comes at the school's Project Outcome Evening but Freddy gets one amazing last chance to put his Awesome Robotic Abilities to the use for which they were intended. This action-packed story is wildly funny and school life brilliantly well observed (I love Freddy's long-suffering human parents too). Through it all, Freddy is learning about himself and his friends, and readers will be too. With cartoon illustrations by Cameron on every page even the most reluctant reader will race through this. Superb! David Almond's latest book Brand New Boy also uses a robot story to explore ideas of understanding, acceptance and human nature.
CHECK OUT OUR INDIE AND SELF PUBLISHED BOOK REVIEW AND PROMOTION SERVICE
Read More
×