Featured books by Bethan Evans

YA readers
Indie Author Books
Necropolis is a Young Adult dystopian fiction with a thrilling concept. In a time where society is becoming more restrictive and segregated, Wyn embarks on a perilous quest to prove the gender divide imposed by her society wrong, as she goes undercover in the army. Will the challenges she faces as a recruit on top of her fight to remain undercover derail her ambitions before she's had time to achieve her goal? With mention of 'The Breakdown' and the illusive nature of the Necropolis, you are immediately drawn in to a different world. As I read I was keen to learn more about this world and Wyn's journey. The plotline progresses quickly and this is a story that you could enjoy easily over a weekend. In a society that is quite this strict about the gender divide, I think that there could have been a bit more tension built as Wyn enquired about joining up, and I found Mrs Clay's critical outbursts in History and eagerness to help Wyn a little bit overzealous and at odds with my expectations of a restricted society within a dystopian novel. Regardless of this I found the plotline enjoyable and Wyn very endearing. This is an interesting story.
Other books by Bethan Evans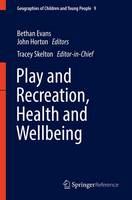 Geographies of children and young people is a rapidly emerging sub-discipline within human geography. There is now a critical mass of established academic work, key names within academia, growing numbers of graduate students and expanding numbers of university level taught courses. There are also professional training programmes at national scales and in international contexts that work specifically with children and young people. In addition to a productive journal of Children's Geographies, there's a range of monographs, textbooks and edited collections focusing on children and young people published by all the major academic presses then there is a substantive body of work on younger people within human geography and active authors and researchers working within international contexts to warrant a specific Major Reference Work on children's and young people's geographies. The volumes and sections are structured by themes, which then reflect the broader geographical locations of the research.
Author Info
Twitter Updates
If this is your author page then you can share your Twitter updates with your readers right here on LoveReading
Find out more
Facebook Updates
If this is your author page then you can share your Facebook updates with your readers right here on LoveReading
Find out more
CHECK OUT OUR INDIE AND SELF PUBLISHED BOOK REVIEW AND PROMOTION SERVICE
Read More
×