Asphyxia - Author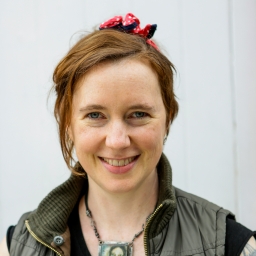 About the Author
Asphyxia is an artist, writer and public speaker. Author of the much-loved junior fiction series the Grimstones, Asphyxia has also been a circus performer and puppeteer. An avid art-journal creator, she loves to share her process and help others benefit from this amazing tool for self-expression, problem-solving, planning, goal-tracking and self-esteem. Deaf since the age of three, Asphyxia learnt to sign when she was eighteen, which changed her life. She is now a Deaf activist, sharing details of Deaf experience. She raises awareness of oppression of Deaf people and what we can do to change this. Her free online Auslan course (www.asphyxia.com.au) has had over 15,000 students. Asphyxia is kept busy with her small farm where she combines food-growing with art - creating a magical aesthetic with plants and natural elements. Her novel for teens, Future Girl, combines all these passions.
Featured books by Asphyxia

13+ readers
YA readers
The first thing that strikes you about this book is the fascinating, colourful effects on every page. This book is presented as a personal journal – one that is packed with artwork, collage and beautiful, striking full colour and line illustrations. The mix makes this a book that students will want to pick up and browse even before they get involved in the story. Asphyxia is a deaf artist, writer and public speaker and is a well-known Australian activist for deaf people, as well as writing previous junior fiction titles. Set in the near future in a Melbourne on the edge of disaster we live with Piper, a 16-year-old deaf student, who's Mum wants her to appear normal - so Piper struggles to cope with hearing aids at school and uses 'normal' speech, so she fits in. She meets the son of a deaf mother, Matthew, who is a CODA – Child of a Deaf Adult – and realises that a whole world of communication is available to her in sign language. With this revelation comes a new world opening up that takes Piper into groups and friendships she has not seen before – away from the usual world of reconstituted food with created flavours into a whole way of life growing wild food and learning how to cook it. This theme of the sustainability of our world is such a hot topic – and the detail, illustration and information here is fascinating. I would recommend reading it for that alone, but what I found the most fascinating was being almost inside Piper's thoughts as she discovered and learned Auslan (Australian Sign language). Having attended several Deaf Awareness training sessions in my working life I just wish someone had given me this book instead – it seems to place you inside a deaf person's mind, so you can really grasp the difficulties and joys of being deaf, and the hearing world's reaction to that. This book should be in every secondary school – it gives such a vivid picture of life for a deaf person, whilst the presentation is so beautiful it draws the reader in. Do read it! Find more books with Positive Images of Disability.
Twitter Updates
If this is your author page then you can share your Twitter updates with your readers right here on LoveReading
Find out more
Facebook Updates
If this is your author page then you can share your Facebook updates with your readers right here on LoveReading
Find out more
CHECK OUT OUR INDIE AND SELF PUBLISHED BOOK REVIEW AND PROMOTION SERVICE
Read More
×