Chris Salisbury - Author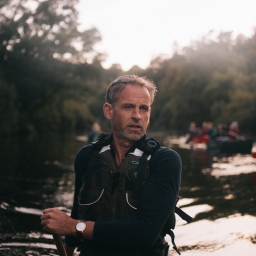 About the Author
Chris Salisbury founded WildWise in 1999 after many years working as an education officer for Devon Wildlife Trust. With a background in the theatre, a training in therapy and a career in environmental education, he uses every creative means at his disposal to encourage people to enjoy and value the natural world. Chris directs the acclaimed Call of the Wild Foundation programme for educators-in-training as well as Where the Wild Things Are, a rewilding adventure based at Embercombe in Devon. He is also a professional storyteller (aka 'Spindle Wayfarer') and is the co-founder and artistic director for the Westcountry and Oxford Storytelling Festivals. Chris lives in the enchantment of the Dart Valley, Devon, UK with his lovely wife, two pesky children, and an astonishing dog called Dexter.
Photo credit Aubrey Simpson
Featured books by Chris Salisbury

7+ readers
9+ readers
11+ readers
The Magic of Exploring the Outdoors After Dark | Calling all outdoor adventurers who want to walk on the wild side by the light of the moon! While there's no shortage of brilliant books to inspire and guide nature exploration in young adventurers, Chris Salisbury's Wild Nights Out is the first nature guide to focus on night-time activities, which gives both the book and its activities a distinct and decidedly magical edge. With a foreword by Chris Packham, this is a brilliant book for grown-ups to use with 7+-year-olds who share their passion for the great outdoors. The text addresses adults, as opposed to chattily speaking to children direct, but with a background in theatre and environmental education, and currently working as professional storyteller alongside directing the Call of the Wild Foundation programme for educators-in-training, the author is well-placed to advise on how to engage young explorers. As for the activities, the book covers a blend of games, walks and sensory experiences, the latter of which form an excellent foundation from which to explore the world at night, with exercises designed to focus and enhance one's sensory perceptions. Then there are practical activities covering the likes of learning to call for owls, detect bats and understand the night sky alongside immersive theatrical activities, such as hosting nocturnal animal performances and fireside storytelling. With black-and-white illustrations throughout and activities to last the entire summer holidays, this certainly shines an inspiring and informative light on night-time nature.
CHECK OUT OUR INDIE AND SELF PUBLISHED BOOK REVIEW AND PROMOTION SERVICE
Read More
×