Chris Whitaker - Author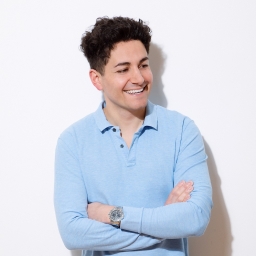 About the Author
Chris Whitaker is the award-winning author of adult thrillers Tall Oaks, All the Wicked Girls and We Begin at the End. All three books were published to widespread critical acclaim, with Tall Oaks going on to win the CWA John Creasey New Blood Dagger Award. An instant New York Times bestseller, We Begin at the End was picked as a Waterstones Thriller of the Month and is longlisted for both the Gold and the Steel Dagger Awards.
When not writing, Chris works at his local library, where he gets to surround himself with books. A huge fan of teen fiction, The Forevers is his first novel for young adults. Chris lives in Hertfordshire with his wife and three children.
Featured books by Chris Whitaker

YA readers
July 2021 Debut of the Month | Opening with the arresting scene of a body being discovered, the third in a month, Chris Whitaker's The Forevers is a thought-provoking page-turner founded on a killer concept - if you could get away with anything without consequence, if the world was about to end, what would you do? "The dead girl lay face down, ashen hair fanned out like she'd been posed. Some kind of terrible masterpiece Mae knew she'd never forget". This is the grim reality of Mae's present. At seventeen, she thinks back to ten years earlier, when news of the asteroid first broke - a ticking timebomb that's set to explode. There's no avoiding the terrible truth - "She was seventeen years old. She would die in one month", for the Earth was "so broken not a thing would survive." Amidst increasing rumbles and tremors, amidst people's preparations for death, the discovery of the body of Mae's popular peer Abi provokes questions - Did she jump? Was she pushed? The sense of time running out, and the brutal psychological impact of knowing that the end is nigh, is masterfully evoked in all its heart-stopping starkness, while the dynamics between the young adult characters are authentically realised. All in all, this near-dystopian thriller has thought-provoking bite.
Author Info
Facebook Updates
If this is your author page then you can share your Facebook updates with your readers right here on LoveReading
Find out more
CHECK OUT OUR INDIE AND SELF PUBLISHED BOOK REVIEW AND PROMOTION SERVICE
Read More
×