About the Author
Winner of J M Barrie Award 2016
March 16 was Michael Morpurgo month on Lovereading4kids - click here to view the favourites we selected on themes of Legends, Animals, War and Journeys.
Michael Morpurgo, OBE, MBE, is one of the UK's best-loved authors and storytellers. He was appointed Children's Laureate in May 2003, a post he helped to set up with his friend Ted Hughes in 1999. He was awarded an OBE for services to Literature in the Queen's Birthday Honours in 2007. He has written over 120 books, including Kensuke's Kingdom which won the Children's Book Award 2000 and was shortlisted for the Whitbread Children's Book Award and the Carnegie Medal in 2000. His novel, Private Peaceful, a harrowing story about the First World War was published in Autumn 2003. It won the 2004 Red House Children's Book Award and the Blue Peter Book Award in 2005. His novel Shadow about a boy from Afghanistan and the dog he befriends won the Red House Children's Book Award, voted for by children.
Many of Michael's books have been adapted for the stage. These include Private Peaceful, Kensuke's Kingdom, Why the Whales Came and The Mozart Question, and most notably, the National Theatre's production of War Horse which then moved to a theatre in central London. This production of Michael's moving and powerful story of survival on the Western Front, which reached number one in the Observer's top ten theatre performances and was also awarded the best design prize in the Evening Standard Theatre Awards. This production also played in New York where it was awarded five Tony Awards. In 2012 the film adaptation of War Horse, directed by Steven Spielberg, was a box office success.
Michael travels all over the UK and abroad talking to children and telling his stories and encouraging them to tell theirs.
In 1976, Michael and his wife, Clare, started the charity Farms for City Children. They help to run three farms around the country, in Gloucestershire, Pembrokeshire and North Devon. Each farm offers children and teachers from urban primary schools the chance to live and work in the countryside for a week, and gain hands-on experience. For more information about the work of Farms for City Children, please visit www.farmsforcitychildren.org
Michael Morpurgo lives in Devon with his wife Clare. He has three children and seven grandchildren.
Michael Morpurgo was our Guest Editor in June 2010. Click here to see the books that inspired his writing, or scroll down to see books written by Michael.
Anthony Horowitz on Michael Morpurgo:
'Michael Morpurgo is the most solid, classical of children's authors. He sits outside the series-driven blockbusters so beloved of publishers nowadays: he hasn't created a Harry Potter or an Alex Rider – and I admire him for resisting that. We are opposite sides of the same coin and, although his work has never influenced mine, I admire the eloquent, considered voice of his best books. He has an unerring moral compass – his schoolteacher past has never quite left him – and books such as War Horse and The Butterfly Lion have a strong social concience and an honesty that makes them universal.' (The Guardian)
Why not CLICK HERE to take a peek at Michael's 10 Rules for Writing.
or Click here to read a Q&A with the author.
You can also read about his life in a new biography, War Child to War Horse, to which he has contributed seven stories - click here to find out more.
Michael is the inaugural President of the Historical Writers Association starting from Autumn 2011, (www.thehwa.co.uk) It was founded to bring social and professional support to writers of historical fiction and non-fiction, publishers, agents and booksellers, all bound both by their common interest in historical books and by the sense of community that comes from a shared obsession.

Since its creation, the Historical Writers' Association has launched a Festival of Historical Writing in association with English Heritage as part of their Festival of History at Kelmarsh in Northamptonshire.
In November 2016 Michael Morpurgo won the J M Barrie Award for his contribution to children's literature. This award is given every year by Action for Children's Arts to a "children's arts practitioner" whose lifetime's work has delighted children and will stand the test of time.
David Wood, chair of Action for Children's Arts, said Morpurgo is "one of our greatest storytellers".
"Michael Morpurgo has thrilled and delighted huge numbers of young readers since becoming a children's author in the early 1970s," Wood said. "Action for Children's Arts is delighted to recognise Michael's outstanding contribution by presenting him with the J M Barrie Award 2016. His work will undoubtedly, like Peter Pan, stand the test of time, making him a truly worthy recipient of this award."
Morpurgo added: "Storymakers and storytellers like Barrie, and like all the previous winners of this award, have given us the hope and faith children need, we need, to keep flying, have sustained us through dark and troubled times, have banished doubt. To touch the lives of children, to witness their listening and reading silence, is reward enough in itself. This is simply the icing on the cake."
..............................................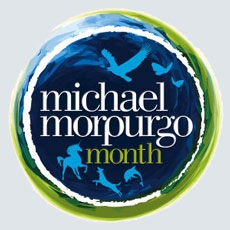 March 2016 was Michael Morpurgo Month - a special month-long celebration of the varied and wonderful works of Michael Morpurgo as he celebrates his 70th year and also to mark the 40th anniversary of his and his wife's Farms for City Children charity. Each week we featured a different selection of books under the themes of Journeys, War, Legends and Animals. We invited our readers to review many of the books that featured during Michael Morpurgo month - and you can download all their reviews here.
If you like Michael Morpurgo you might also like to read books by Robert Westall, Anne Fine, Sarah Lean and Celia Rees.