About the Author
David McKee was born in Devon and studied at Plymouth Art College. In the early part of his career, McKee regularly drew and sold humorous drawings to magazines and newspapers such as The Times Educational Supplement, Punch and the Reader's Digest. David McKee has written and illustrated over 50 picture books for Andersen Press and has penned a number of children's classics including King Rollo, Mr Benn, Not Now Bernard and Elmer the Patchwork Elephant. David loves to paint and now lives in the South of France but regularly visits the UK.
One of the World Book Day 2015 Authors David McKee is one of the best known illustrators of picture books, having created acknowledged modern classics such as Not Now, Bernard, Elmer the Patchwork Elephant, and Mr Benn, Gladiator. His books are published in many languages throughout the world, and many of them have been adapted for television. He was born in Devon and now divides his time between the South of France and London.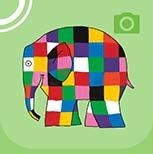 Have you seen Elmer's Photo Patchwork, an innovative activity-based app that encourages creativity and fun? Elmer the Patchwork Elephant is an elephant who stands out from the herd, and Elmer's app is different too. It doesn't keep children glued to the screen, it makes them look up, look around and get inspired by the world. The only limit is their imagination. By using an iPad or iPhone's camera to take photos of interesting colours and textures, kids can add them to an elephant's patchwork pattern. Aimed at children aged 3+. Elmer's Photo Patchwork app is available for £1.99 from the App Store for iPad and iPhone. View the app preview video here.