Michael Rosen's poetry collection about migration, illustrated by Quentin Blake, is the winner of this year's CLPE Children's Poetry Award (CLiPPA).
On the Move explores Michael's own past, as the son of a Polish-Jewish family growing up in London, and includes poems about his "missing" relatives, who lost their lives in the Holocaust. After these very personal poems, the book's last section, On the Move Again, connects his experiences with migration around the world to explain that we are all, always, on the move. This was Michael's second win, having scooped the prize in 2016 with A Great Big Cuddle.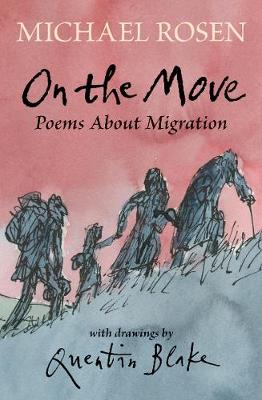 The judges found it full of emotion, delivered with a perfect sense of understatement; they praised the way words and illustrations provide pauses, allowing readers space to think.
Rosen, who was announced as the winner at a live poetry show, hosted by the Times and the Sunday Times Cheltenham Literature Festival, said receiving the CLiPPA is the most important thing that can happen to anyone who writes poetry for children, as well as being "a fantastic honour… a huge treat". The former children's laureate performed at the festival, along with the other shortlistees Nikita Gill, Matt Goodfellow, Manjeet Mann and Jane Newberry, and said that only months ago he couldn't imagine performing live in front of an audience of hundreds ever again.
Rosen spent seven weeks in intensive care last year after contracting Covid-19. "When I was in rehab I remember saying to the physio, 'I don't think I will be able to stand in front of 500 children and do poems'. She said 'don't be so sure'," he told The Bookseller. "Nine months ago I still would have thought that, but a few weeks ago I did two shows by myself and I was amazed."
To read more about CLiPPA, see the judges comments and see the 2021 shortlist, visit our Awards section here