World Book Day 2022 will be the charity's 25th anniversary and will feature a particular focus on reaching children from disadvantaged backgrounds to help them discover a love for reading. They, like us, want to encourage all children to love reading because it's one of the most important ways to improve their life chances.
Although year to date, 1 in 3 books bought was a children's book, reading for pleasure is in decline and nearly 400,000 children in the UK don't have books at home.
That's what World Book Day and communities like LoveReading4Kids and LoveReading4Schools are all about
The 2022 illustrator will be Allen Fatimaharan, best known for bringing the Llama Out Loud books to life.
The £1 World Book Day books for 2022 are:
For beginners
Hey Duggee: The World Book Day Badge by Ladybird
Rocket Rules: Ten Little Ways to Think Big! by Nathan Bryon and illustrated by Dapo Adeola
Dinosaur Roar and Friends! by Jeanne Willis and Peter Curtis
For early readers
Grimwood: Five Freakishly Funny Fables by Nadia Shireen
Jemima the Pig and the 127 Acorns by Michael Morpurgo
The Worst Class in the World in Danger! by Joanna Nadin, illustrated by Rikin Parekh
My Very Very Very Very Very Very Very Silly Book of True or False by Matt Lucas, illustrated by Sarah Horne

For fluent readers
Peak Peril: A High-rise Mystery by Sharna Jackson
Think Like a Boss: Discover the Skills That Turn Great Ideas into CASH by Rashmi Sirdeshpande, illustrated by Adam Hayes
The Wizard and Me: More Misadventures of Bubbles the Guinea Pig by Simon Farnaby, illustrated by Claire Powell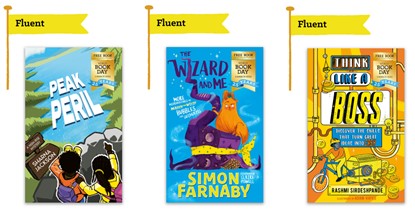 And, for independent readers
The Last Word by Ben Bailey Smith
Boy, Missing by Sophie McKenzie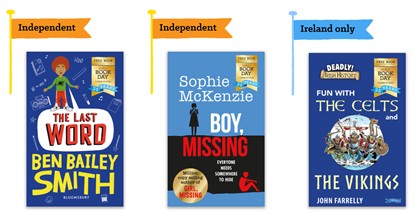 In Ireland readers can also get their hands on Deadly! Irish History: Fun with the Celts and the Vikings! by John Farrelly.
There will be an additional £1 Welsh-language book available only in Wales, which will be confirmed by the Books Council of Wales shortly.
Michael Morpurgo commented: "World Book Day is a moment when we sound the trumpets for books and children, bringing children to books and books to children... World Book Day have been doing this now for 25 years and it's made a huge difference. There are many kids who do not have so many books at home. This is a wonderful way for children to access and enjoy books, and I'm delighted to be involved in 2022."
Sharna Jackson added: "I'm so thrilled to be one of World Book Day's authors for 2022—it's a dream come true. I absolutely love World Book Day and everything they do; they work really hard to get books into the hands of children who need them the most, opening up imaginations and opening up worlds."
World Book Day is on 3rd March 2022.