Timmy Failure is a name many of you may be familiar with, some may not (you will be forgiven just this once).  His books  are close to becoming the thing of legend.  Just like the adventures Alice embarked on when she fell down the rabbit hole or Frodo's quest to destroy the one ring to rule them all; Timmy's quest for global domination will no doubt be whispered through the ages.
Well those whisperings are just beginning, or should I say shouted in an hour of non-stop fun and shenanigans at this year's Edinburgh Fringe Festival.  Taken from the stupendous first book Timmy Failure: Mistakes Were Made by Stephan Pastis, it made us wonder, could a show really be as good as a book?
Well Ben and I took a trip up to grand old London town to watch a rehearsal of this very show on our own quest to find out.  And what did we learn?  Well first a little background information...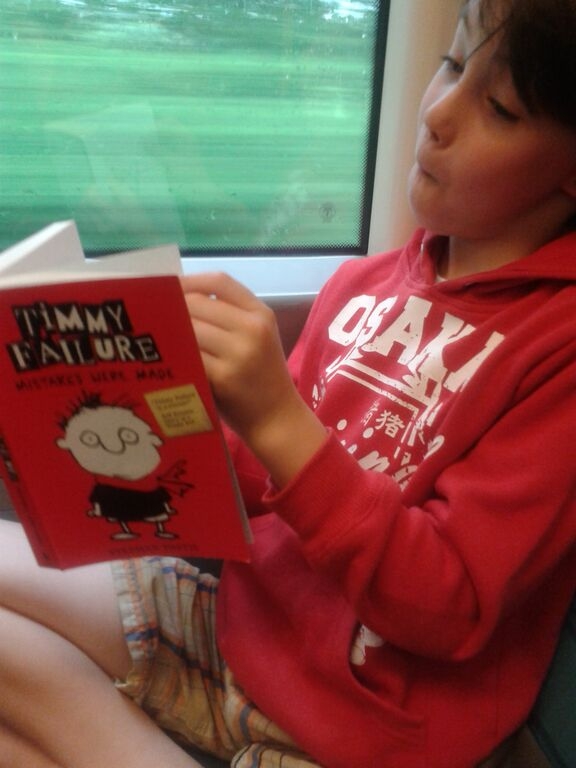 Ben and I are big fans of Timmy.  We have chortled, giggled and gasped our way through 3 ½ of the Timmy Failure Books (we are half way through number 4 as we speak – due to be published in October!).  We of course leapt at the chance to see the rehearsal but arrived with some apprehension.  Could this one man show really capture the essence of the fantastical Timmy Failure book that Stephan created?  Well I can honestly say that we are both in total agreement, the show is going to be packed full of greatness!
Timmy is played by the very talented (and energetic) Leander Deeny.  Leander also takes on the roles of Gunnar, Old Man Crocus, Molly Moskins (aka Tangerine Girl), Rollo Tookus and of course 'The Beast'.  Watching him in the rehearsal was a complete treat and both of us laughed pretty much the whole way through.  Even in this early stage, Leander brought Timmy (and all the other characters to life) wonderfully and we very much look forward to seeing the show again when it hits the theatre.
This is of course a one man show and only an hour long, so Ollie Burch who has adapted the book for the stage, has tried hard to take the most relevant parts to capture the story.  Working alongside director Abigail Graham (along with a small team of very talented people) and with help of the kids who have attended the rehearsals, they have produced something that Ben and I think will be very special.
Stories are like seeds, they grow and take on roots to many different adventures.  This is one thing that makes books so special, they begin as something we hold in our hands and read and share but they can take on new life through countless different mediums.  After enjoying the books so much I asked Ben to sum up the show in just one word and his choice of word?  EPIC.
THE TIMMY FAILURE SHOW will be showing at the Edinburgh Fringe from 6 - 31 August (there is no show on 17 August) at 11.15 am at Assembly George Square Theatre - The Box.  Click here to book tickets:  https://www.assemblyfestival.com/event/154/
Or if you can't make it to Edinburgh there are previews of the show at The Tristan Bates Theatre in London on Wednesday 29, Friday 31 July & Saturday the 1 August.  Click here to book tickets: https://tristanbatestheatre.co.uk/whats-on/timmy-failure-mistakes-were-made
by Shelley Fallows Lovereading4kid's Roving Reporter and Mum to Ben