I am Thunder by Muhammad Khan is an important, engaging debut in which a bright British Muslim is drawn down a dark path. Tingling with heart and urgency, and astute on the complexities of radicalisation, this rivetingly authentic read shows that representation really does matter. Our Reader Review panel loved it, here is what Humaira Kauser, age 19, felt; "I hope more books are written in this vain. We need more people like Muhammad Khan to craft stories like this to not only show that we are not alone but also so people understand."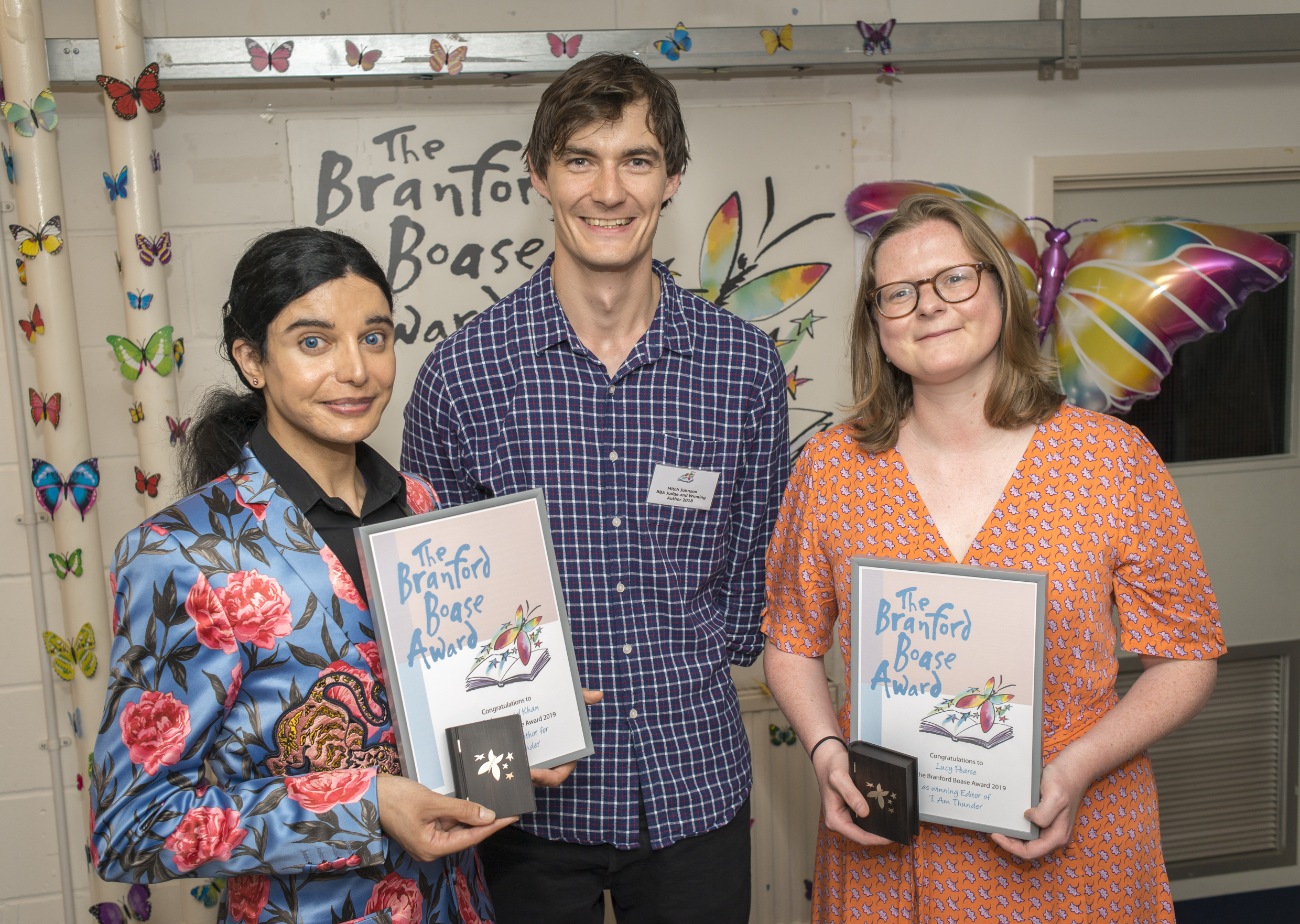 Celebrating its 20th anniversary, the Branford Boase Award is unique in acknowledging the importance of the editor, and Khan shares his award with his editor Lucy Pearse of Macmillan Children's Books. This photograph shows, left to right, Muhammad Khan, 2018 winner Mitch Johnson and Lucy Pearse.
Muhammad Khan said: 'I am stunned, humbled and thrilled to learn that I am Thunder has won the Branford Boase Award. To do so in its glorious 20th year is completely mindboggling! Just to be shortlisted among such a talented bunch of authors with incredible debut novels was exciting enough.'
He thanked his editor Lucy Pearse: 'Every writer owes a huge debt of gratitude to their editor – more so debuts. Our editors work tirelessly to correct our rookie mistakes, incoherent plots, cardboard characters, and continuity errors. No mean feat! Sharing the experience of bringing I am Thunder to publication with Lucy Pearse has been an unforgettable privilege. I'm not going to lie: it was also extremely exhausting; involved copious re-writes, tight deadlines and the unsung pressures of being a full time maths teacher. She not only understood Muzna - this character I was just as fiercely protective of as any of my real-life students - but she knew exactly how to present her to the world. Lucy is one of the bravest, kindest and most talented people I have ever met and sharing this award with her is so special.'
He added: 'Over the last several years, Muslims have had more than our fair share of struggles. We've had to deal with the spectre of 9/11, ISIS spreading a false version of Islam, the notorious 'Kill a Muslim Day', Islamophobic attacks both on individuals and mosques, discussions centred on what we can and can't wear, misrepresentation in the media and exclusion from conversations about us. I am a Muslim author writing about Muslims and depicting the plurality that is our reality. That I am the first writer of colour to win the prestigious Branford Boase Award gives me tremendous hope for the future.'
The shortlist included:

The House with Chicken Legs by Sophie Anderson, edited by Rebecca Hill and Becky Walker (Usborne) (also shortlisted for the CILIP Carnegie Medal)
The Train to Impossible Places by P.G. Bell, edited by Rebecca Hill and Becky Walker (Usborne)
Rosie Loves Jack by Mel Darbon, edited by Sarah Stewart (Usborne)

The Goose Road by Rowena House, edited by Mara Bergman (Walker Books)
Orphan Monster Spy by Matt Killeen, edited by Sarah Stewart and Kendra Levin (Usborne) (shortlisted for the Costa Children's Book Award)
The Boy at the Back of the Class by Onjali Q Raúf, edited by Lena McCauley (Orion Children's Books) (winner of the Blue Peter Book Award)

Julia Eccleshare says: "In its twenty-year history, the Branford Boase Award has given a crucial early career boost to the most exciting and important young authors, and prompted publishers to seek out new talent. What's more, it continues to reflect the shape and preoccupations of contemporary children's literature: this year's shortlist demonstrates the strength and depth of writing for children and young people. There are powerful stories for young adults tackling complex issues alongside delightfully original fiction for readers aged 8 – 11, and recurring themes include resilience, identity and a sense of self. We are proud of every one of the award's twenty shortlists and happy that so many years after their deaths, Wendy Boase and Henrietta Branford are celebrated in such a positive way."

Last year winning book was Kick by Mitch Johnson who said; "For some readers, Kick may be a book of firsts: the first time they encounter a novel set in Indonesia; or mingle with a cast of characters whose daily wage is almost impossible to believe; or are offered a glimpse into the murky world of how things are made. But there will also be a lot that is recognizable, and by focusing on our inherent similarities, rather than the circumstantial differences that separate us, I hope we can start to dismantle the barriers that have been built between those who produce and those who consume. Now more than ever, I believe children need characters like Budi who are filled with goodness and dreams and the desire for a better world. Characters who are incorruptible despite the precedents – despite everything – and who will keep kicking no matter what."
This year to mark the 20th anniversary of the Branford Boase Award, Walker Books have reissued Henrietta Branford's novel Fire, Bed and Bone. Marcus Sedgwick, who won the Branford Boase Award in 2001, says: "Fire, Bed and Bone is one of those very short books that is nevertheless powerful and moving; one of those books which oozes confidence from the first line to the last. With it, Henrietta won the Guardian Children's Fiction Prize, and twenty-two years later I think it would still win. It's far from being the first novel narrated by an animal, in this case a hunting hound witnessing the events of the Peasant's Revolt of 1381, but remains a masterclass in how to pull off that feat successfully. Its prose is robust and rhythmic; flawless in its execution, showing just what complex themes and stories one can address in a 'book for children'."
The Branford Boase Award is recognised as one of the most important awards in children's books with an impressive record in identifying authors with special talent at the start of their careers.
Uniquely, it also honours the editor of the winning title and highlights the importance of the editor in nurturing new talent.

This year the judges were Sanchita Basu De Sarkar of the Children's Bookshop, Muswell Hill; Ellen Krajewski, librarian at Hemel Hempstead School, Hertfordshire; Louise Johns-Shepherd, chief executive of CLPE ; and Mitch Johnson, author of Kick, winner of the 2018 Branford Boase Award. The panel was chaired by Julia Eccleshare, children's director of the Hay Festival and Lovereading4Kids expert reviewer.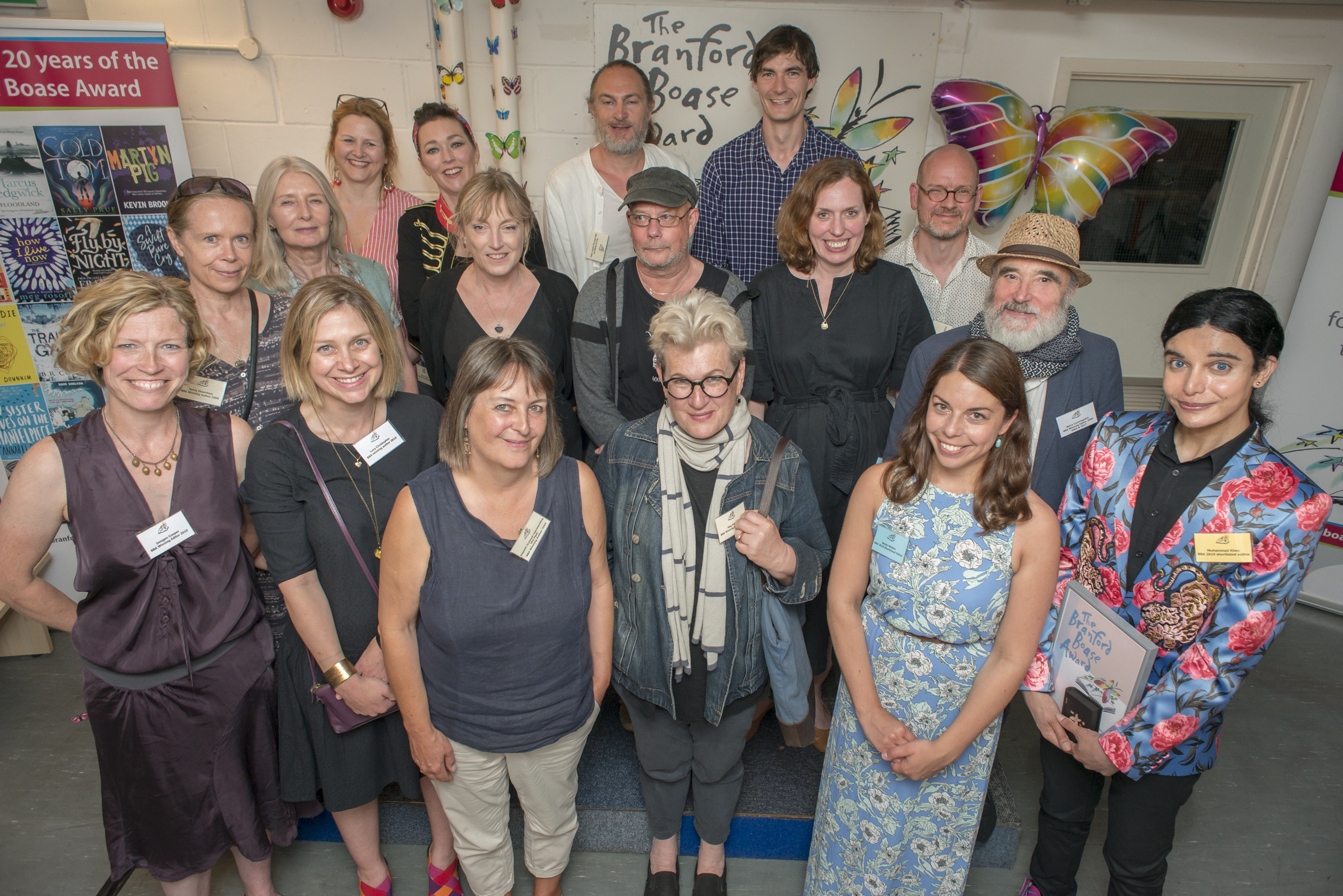 The award was attended by previous winning authors and editors: left to right in photo (back row) Venetia Gosling, M.G. Leonard, Marcus Sedgwick, Mitch Johnson; (middle row) Jenny Downham, Fiona Kennedy, Penny Thomas, Kevin Brooks, Rebecca Hill, Dave Shelton, Barry Cunningham; (front row) Imogen Cooper, Lucy Christopher, Elspeth Graham (representing Mal Peet), Meg Rosoff, Becky Walker, Muhammad Khan.
The Branford Boase Award was set up in memory of the outstanding and prize-winning author Henrietta Branford and Wendy Boase, editorial director and one of the founders of Walker Books. They worked together on a number of Henrietta's novels, a partnership they greatly enjoyed.
Henrietta Branford was a gifted novelist for young people. During her short career she won the Smarties Prize in 1994 for Dimanche Diller (Harper Collins) and the Guardian Fiction Prize in 1998 for Fire, Bed and Bone (Walker Books); she was twice shortlisted for the Guardian Fiction Prize, in 1994 and 1997. Her progress and development as a writer was watched with interest by publishers, critics and fellow writers alike.
Wendy Boase, Editorial Director of Walker Books, and one of its founders, was a passionate children's book editor wholly committed to developing new writers and nursing them through their early writing careers. She is credited with bringing on many new talents. She and Henrietta worked together on a number of her books, a partnership that was warmly appreciated by Henrietta.
Both Henrietta and Wendy died of cancer in early 1999. The Branford Boase Award wishes to celebrate and encourage, in their names and in their memories, the crucial early development of new writing talent.
Running alongside the Branford Boase Award, the Henrietta Branford Writing Competition encourages writing talent in under 18s.
The winner was announced on Thursday 27th June 2019 at a ceremony in London, winning a cheque for £1,000 and both author and editor receive a unique, hand-crafted silver-inlaid box.
For a full list of the Longlisted titles click here.
For more information on the Branford Boase Award visit www.branfordboaseaward.org.uk.