Julian is a Mermaid by Jessica Love (Walker Books) is a joyful, positive story that adroitly questions gender stereotypes, it has been described as barrier-breaking and was also shortlisted for the CILIP Kate Greenaway Medal.
Judge, former Children's Laureate and multi-award-winning illustrator Anthony Browne says: "Julian is a Mermaid is an astonishingly beautiful book. It's amazing to realise this is Jessica Love's first attempt. She has quickly realised how picture books work - the understated words fit so brilliantly with the stunning illustrations, never getting in the way, never trying to do the same job. It's a perfect picture book."
Fellow judge Farrah Serroukh, of CLPE adds: "The illustrations say things that it would be difficult for words alone to express. The layers of meaning that can be inferred through each spread are rich, sophisticated and plentiful. Quite simply, it is a stunningly beautiful, heart-warming debut."
Julian is a Mermaid was partly inspired by a trans friend of Jessica and questions about how to explain his transformation to younger family members. She says: "It got me curious about what sort of literature there was out there for families looking to have conversations with their children about identity, and how sometimes a person has to do a little more work to create the proper cover for their own book. I wanted to make something that didn't feel didactic but that gave children a chance to experience this character's inner life and identify with it. I wanted to give kids who identify with Julian a chance to see themselves reflected, but I also wanted kids who don't identify with him a chance to get inside his experience and feel what it might be like.'
Worlds less ordinary: these six outstanding debut picture books celebrate children's imagination and potential, family love, and freedom of expression.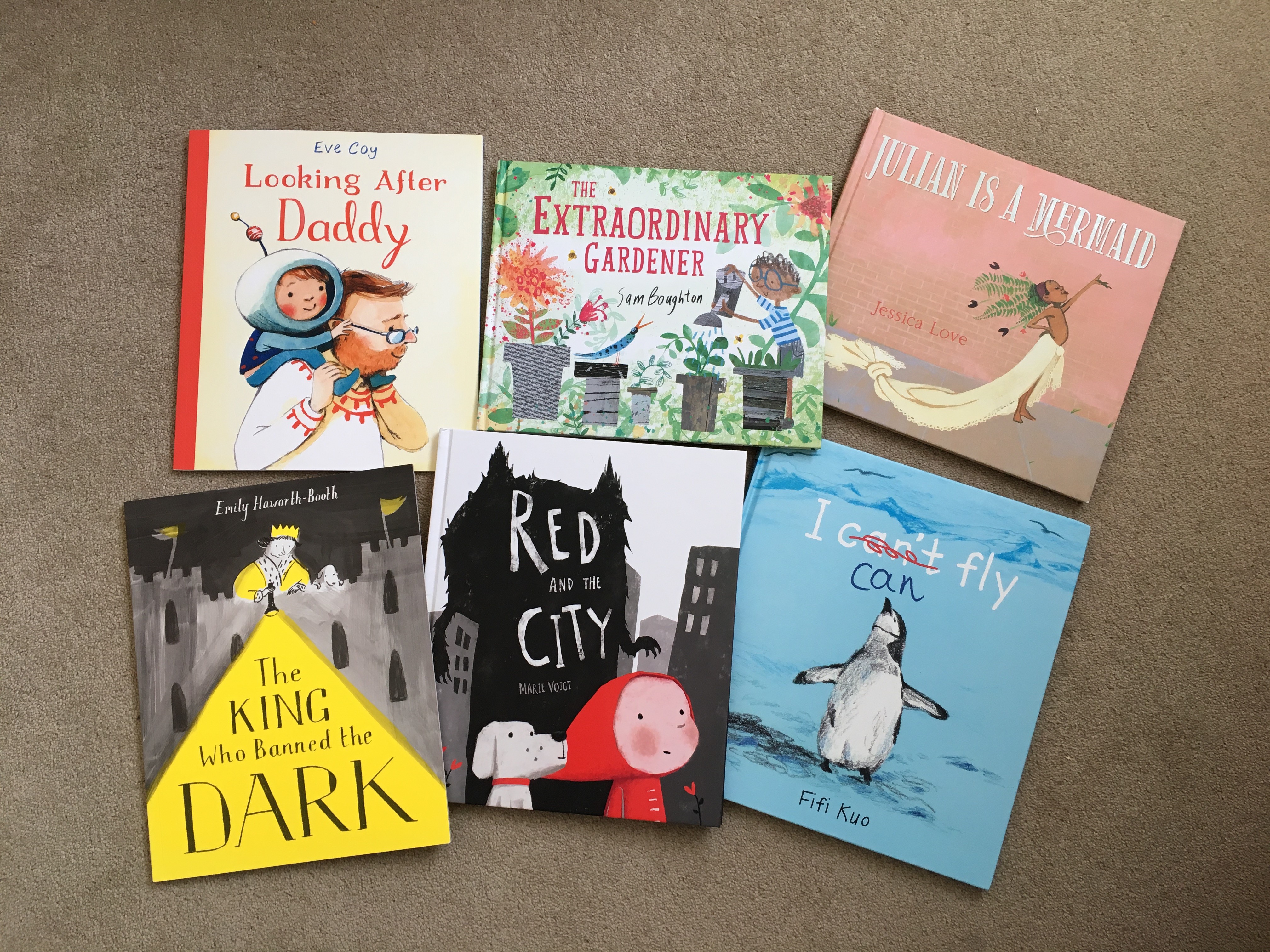 For the first time, the Klaus Flugge Prize had an all-female shortlist and we think it's a particularly strong and interesting one. The shortlisted books have very different subjects: a penguin and a king; a mermaid and a beginner gardener; Little Red Riding Hood and a girl looking after her daddy. Recurring themes however are the power of a child's imagination and the importance of family and love, while there are also subtly delivered, positive messages about the right to self-expression (Julian is a Mermaid) and about contemporary society (The King Who Banned the Dark, Red and the City). The contemporary picturebook has increasingly become a vehicle for strong messages and themes in relation to issues of our time but whether dealing with social, environmental or political themes, each of the books on this list deals with its subject with lightness of touch and an element of humour.
The winner;
Julian is a Mermaid by Jessica Love (Walker Books)
The shortlist in full;
The Extraordinary Gardener by Sam Boughton (Tate)

Looking After Daddy by Eve Coy (Andersen Press)

The King Who Banned the Dark by Emily Haworth-Booth (Pavilion Children's Books)

I Can Fly by Fifi Kuo (Boxer Books)

Red and the City by Marie Voigt (Oxford)

Julia Eccleshare, chair of the judges: "Our 2019 shortlist is very exciting and represents the range of talent and skill in today's new picture book illustrators. It also perfectly demonstrates how much picture books give children – reassurance, knowledge and understanding of themselves and the word as well as that first appreciation of art and realisation that images can tell us more than words. We are pleased too that the list is once again international, with illustrators from Germany, Taiwan and the US represented alongside British talent. It's a list worthy of Klaus Flugge who has always nurtured new talent and understands the power of picture books to open up the world for children."

The Klaus Flugge Prize was founded to honour publisher Klaus Flugge, a supremely influential figure in picture books, who this year celebrates the 41st anniversary of his publishing house Andersen Press. Klaus Flugge discovered and nurtured many of today's most distinguished illustrators including Chris Riddell, fellow judge Tony Ross, and David McKee, creator of Elmer the Elephant.
The judges for the 2019 prize were
Anthony Browne, former Waterstones Children's Laureate and preeminent illustrator
Kate Milner, 2018 Klaus Flugge Prize winner
Derek Brazell, the Association of Illustrators

Billiejo Carlisle, Seven Stories bookseller
Farrah Serroukh, Learning Programme Leader at CLPE (Centre for Literary in Primary Education)
The panel was chaired by our own LoveReading4Kids expert reviewer, Julia Eccleshare.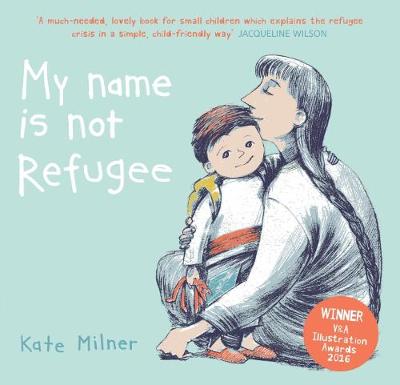 The winner of the 2018 Klaus Flugge Prize for the most exciting and promising newcomer to children's picture book illustration was My Name is Not Refugee by Kate Milner.
Klaus Flugge Prize Judge, Children's Laureate Lauren Child said: "The questions My Name is Not Refugee asks us to consider help us to think ourselves into someone else's shoes. And the illustrations do just what they should, allowing the reader time to contemplate the predicament of the storybook child, a chance to imagine and to empathize."
The 2019 winner was announced on Wednesday 11th September and the winning illustrator received a cheque for £5,000.
Find more information www.andersenpress.co.uk/KlausFluggePrize