LoveReading View on Chocolate Box Girls: Sweet Honey
One of our Books of the Year 2014 - One of the Lovereading4kids Readers' Choice Books of the Year 2014 Cathy Cassidy's Chocolate Box Girls are growing up and learning to deal with new problems. Fifteen year old Honey flies off to live with her dad in Australia. After all her troubles at home, Honey is determined to make a new start. She's thrilled to meet her dad at the airport and impressed by the fancy house he lives in with his partner Emma. Honey starts a new school and even makes new friends. Is this all going to be better than her life before? Disaster strikes Honey when she makes a bad mistake about an online friend. Soon someone is spreading terrible things about her all over the internet. Does she really know who Riley is? And at home, she soon realises that her father is not quite the good guy she had imagined; she learns a dangerous secret about him which she will not let go lightly. Honey returns to Tanglewood wiser and more experienced.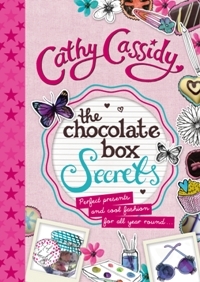 ***And all Cathy fans will love The Chocolate Box Secrets. It's a delicious scrapbook of fun, creative ideas from the Chocolate Box Girls.
Make your own vintage style top or try some of the recipes and there are some cool ideas to make your sleepovers really fun!
Chocolate Box Girls: Sweet Honey Synopsis
This is the next instalment in the addictive Chocolate Box Girls series and sequel to Cherry Crush, Marshmallow Skye, Summer's Dream and Coco Caramel. Honey is going to live with her dad in Australia. Determined to make a fresh start, she couldn't be further away from the tough times at Tanglewood. Her new life is a dream come true - until school begins. The girls are different from Honey's friends in England and the only person who seems to understand her is the cute boy from the beach she's chatting to online. But when he, the girls at school and even her dad start breaking promises, who can she trust? All alone on the other side of the world, Honey's past is about to catch up with her...
A message from the author: Of all the sisters in the Chocolate Box Girls series, Honey is the one who fascinates me the most. Is she mean, manipulative and out of control or is there a lost, broken little girl hidden away behind the tough-kid mask? The more I wrote, the more certain I was that it was the latter. Sent to stay with her dad in Australia, Honey is trying hard to turn over a new leaf. Her new life in the sun isn't quite what she expected, but it has some bright points: new friends Bennie and Tara, surf boy Riley and cool, kind cafe boy Ash. But can Honey really trust her new friends? When things begin to unravel and she finds herself in the middle of a nightmare, who can she turn to?
Sweet Honey is a story of new beginnings, of friendship, trust and falling in love . . . but also a story of cyber-bullying, stalking and falling apart. Sometimes, you have to let go of the past to move on, to fall to pieces before you can begin putting yourself back together. And, sometimes, a family can hide a secret that changes everything.
You can find videos of all the Tanberry sisters on Cathy Cassidy TV!
The Chocolate Box Girls series:
Chocolate Box Girls: Sweet Honey Press Reviews
All the teenage humours of romance, jealousy, friendship and sorrow rage freely in this brilliantly observed story of contemporary life. -- Julia Eccleshare Lovereading4kids.co.uk
Praise for Cathy's books:
Touching, tender and unforgettable. The Guardian
A great choice for older Jacqueline Wilson fans Irish Independent