LoveReading View on Dog on a Digger The Tricky Incident
Kate Prendergast's new picture book is full of drama, tension, excitement and humour too, all of it told entirely through the pictures, no words are needed. From the moment he wakes up Dog is a boisterous, noisy presence, licking his owner awake and later joining him in the cab of his digger. Drama develops at lunchtime: while Dog's owner is chatting to the young woman who runs the café, Dog notices her little terrier has disappeared. Dog tracks down the missing pet and with the help of his owner and the digger completes a daring rescuer. There's a great deal for readers of all ages to enjoy and discuss, and the soft pencil illustrations are extraordinarily expressive. ~ Andrea Reece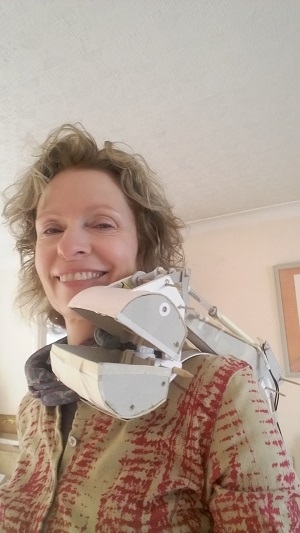 Dog On A Digger and how it came about by Kate Prendergast : Dog on a Digger came about after a long period of observational drawing at a recycling site (where I was doing some office work). What intrigued me at first was the ramshackle variety of objects that came into the site, how they were sorted out, how some things were kept to decorate the site, whilst others were sold on. A bit like beachcombing or a jumble sale. I hope this detail is reflected in some of the drawings.
As I continued drawing, the vehicles on the site, especially the digger, started to interest me more and more. The digger of awesome dinosaur-size scale, great to draw, with switches, lights, levers and wires, started to take on a character of its own. As I drew the digger I felt I needed to understand the mechanics of the digger arm better - what pushed and pulled to make the arm move and the digger jaws open, so I made a model out of cardboard, kebab sticks and masking tape! Loads of fun, plus it turned out to be useful as a maquette (model), particularly in getting perspective right.
Having done lots of drawing of the site I wanted to use the information in a book, a story about the yard, incorporating my favourite things; the digger, the caravan, the snack wagon; and importantly the way that nature still exists alongside industrial sites. I saw foxes and an owl on this site, butterflies on the buddleia bush, hawks nesting somewhere around the Ikea car park, and the seagulls always there hoping for some tasty rubbish. I also wanted to do more with Dog from my first book Dog On A Train, and thought he could help his man, as farm dogs do, sitting on the tractor beside the farmer. I also wanted to develop his personality, to take part in the action – what that action was going to be I didn't have an idea, but I knew there should be someone, in addition to dog and his man, to run the snack wagon and from there it was a short step to one of them getting in trouble and Dog having to sort it out…
Dog on a Digger The Tricky Incident Synopsis
Dog On A Digger is a wonderful, wordless picture book, readers are drawn in to narrate. Dog is helping his master on the building site when his little friend goes missing. Plucky Dog takes charge and cleverly brings the digger to the rescue. A winning combination of charming animals and meticulously drawn machinery.
Kate Prendergast's first wordless picture book Dog On A Train was longlisted for the inaugural Klaus Flugge prize 2016.
Dog on a Digger The Tricky Incident Press Reviews
Reviews for Dog On A Digger:
Another brilliant, wordless book from Kate Prendergast and a book to treasure for the drawing skill and the compelling story. Will be loved by everyone from three to 133 The Bookbag
Reviews for Dog On A Train:
Dog captured my heart as soon as I saw the book...it is unusual to find an artist who is so good at capturing the live form - in this case Dog and Boy - as well as the cityscape, but Prendergast is excellent in both areas...A story told in great detail but without using a single word. Highly recommended. The Bookbag
This is a very lovely debut picture book from Kate Prendergast. Soft, evocative pencil drawings tell a moving, wordless story of love and loyalty... Playbythebook