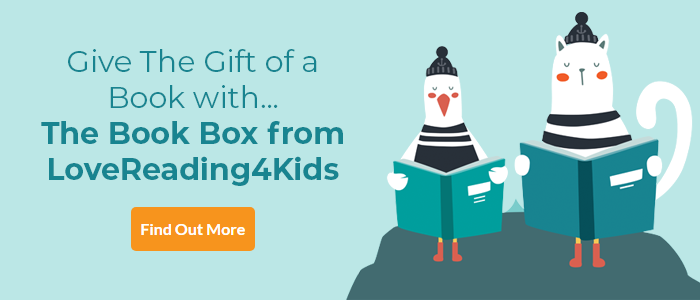 Danny McGee Drinks the Sea Review
December 2016 Book of the Month Andy Stanton, that maestro of absurdity, teams up with Neal Layton, an illustrator who also has a direct line to preposterousness, to create a picture book that takes a simple idea and follows it to a superbly irrational logical conclusion. Brother and sister Danny and Frannie are enjoying a day by the sea when, inspired by its sparkly blue vastness, Danny decides he'll drink it. Challenged by Frannie he does, and then he goes on to swallow more and more things – trees, mountains, the author of the book (you can see him writing away inside Danny's stomach), America - until there's no more to see. But then he makes his mistake. If you need a moral, it's probably never underestimate your siblings, but best enjoy it as a glorious, liberating exploration of the ludicrous! ~ Andrea Reece
Danny McGee Drinks the Sea Synopsis
A hilariously anarchic tale from the inimitable Andy Stanton, author of Mr Gum, and much loved illustrator Neal Layton. Can a boy drink the sea? Surely it's impossible! But Danny McGee does just that - and now he has his sights on other things. Soon he's swallowing trees, flies, fleas, peas, mountains ...where will it end?!
Andy Stanton has won a string of awards for his Mr Gum books, including the Red House Children's Book Award, the Roald Dahl Funny Prize, and the Blue Peter Book Award for Best Book With Pictures. Neal Layton is the multi-award-winning illustrator of the Emily Brown books.
Andy said: 'I'm over the moon to be making picture books with Hachette. They totally get what I'm up to and seem completely willing to help me in my quest to amuse, amaze and irreparably scramble the brains of very tiny children indeed.'
Danny McGee Drinks the Sea Press Reviews
'…the pairing of funny book heroes Stanton and Layton is certainly something to look forward to' - The Bookseller
'Prepare yourself for fits of giggles from adults and children as you read this hilarious picture book. [...] Wonderfully funny and superbly illustrated' - Parents in Touch
If you loved this, you might like these...