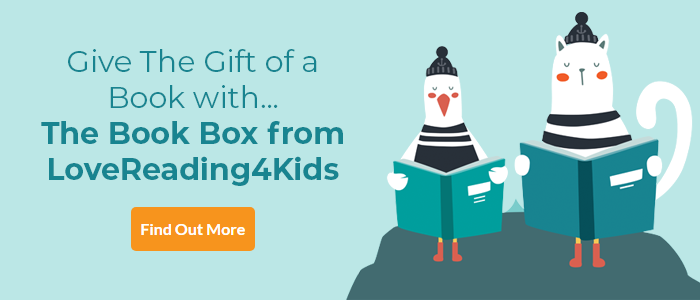 LoveReading View on We're Going on a Bear Hunt
This classic picture book is such a triumph of words and illustration, as satisfying to look at as it is to read aloud, that it hardly needs an extra gimmick, but snow globes are irresistible and there's something particularly pleasing about shaking the snowflakes around in this special gift edition, especially when reading about the swirling, whirling snowstorm, "Hoooo woooo! "Hoooo woooo!" It will be fun to share this with children and it's a book that everyone should own. ~ Andrea Reece
*** Last Christmas Channel 4 showed an animated TV adaptation of We're Going on a Bear Hunt. Find out more here!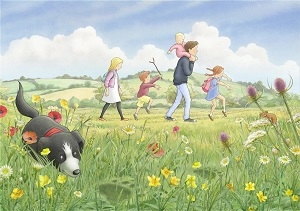 Michael Rosen said: "I am absolutely delighted that Channel 4 has commissioned this animation. Lupus have a great record in this field and I am very excited to be part of the project. Helen Oxenbury's wonderful art work provides a powerful family saga, full of imagined or real trials and these pictures will give a basis for a moving Christmas drama."
Helen Oxenbury said: "I'm so looking forward to seeing the book brought to life in this way. It's a wonderful opportunity to bring We're Going on a Bear Hunt to even more children and I'm thrilled to be part of it."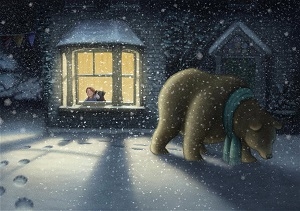 Jay Hunt, Channel 4 Chief Creative Officer, said: "Going on a Bear Hunt is a magical book that will be brought alive for a whole new audience by Lupus Films. I can't wait."

We've got some great stuff related to this book in our KidsZone.
Head over there and check it out now.
We're Going on a Bear Hunt Synopsis
Gorgeous gift edition of the classic join in story by Michael Rosen and Helen Oxenbury. Shake up a snowstorm with this perfect gift for brave hunters and bear-lovers everywhere!
We're going on a bear hunt. We're going to catch a big one. Will you come too?
For over a quarter of a century, readers have been swishy-swashying and splash-sploshing through this award-winning favourite. This new gift hardback edition includes a superb snow scene on the cover to add fun and festive flurries to your favourite family adventure story. Follow and join in the family's excitement as they wade through the grass, splash through the river, squelch through the mud and brave their way through the swirling, whirling snowstorm in search of a bear. What a surprise awaits them in the cave on the other side of the dark forest!
There is a new website celebrating 25 years Bear Hunting - visit www.jointhebearhunt.com for everything a bear hunter could need including activities, videos, competitions and tour dates.
The book has sold in nearly 30 countries and in over 20 languages.
We're Going on a Bear Hunt Press Reviews
The unique snow globe cover adds a special festive flurry to this timeless classic. Little ones will be entranced by the well-loved and beautifully lyrical bear hunt story. Baby Hampshire
If you loved this, you might like these...