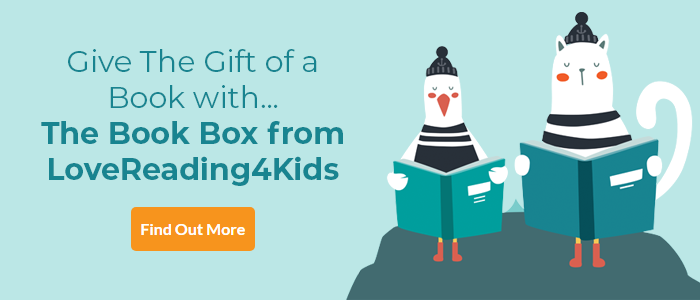 The Road To Ever After Review
Longlisted for the UKLA 2018 Book Award
Moira Young puts her own spin on the Christmas film classic It's a Wonderful Life in this delightful story of friendship and redemption. Young Davy David is an orphan living in a den near the graveyard in a dead-end town. Despite the hardships of his life, he's cheerful, kind and generous. He likes to draw angels in the sand, inspired by the pictures in his favourite book in the town's library. It's because of his poverty, kindness and closeness to angels that he ends up driving the elderly Miss Flint to her old home to die. Just as in the film, an angel intervenes in their journey to help Davy and Lizzy Flint find what they need. Miraculous, without straining credulity, heart-warming without ever being sentimental, this comic adventure story is its own kind of wonderful. ~ Andrea Reece
The Road To Ever After Synopsis
Davy David, an orphan, lives by his wits in the dead-end town of Brownvale. When a stray dog called George turns Davy's life upside down just days before Christmas, he sets in motion a chain of events which forces them to flee. A mischievous wind blows the two of them to a boarded-up museum on the outskirts of town where they meet the elderly recluse, Miss Flint. She has planned one last adventure before her time is up and hires the reluctant Davy and George to escort her.
A magical adventure about an unlikely friendship and an unforgettable journey.
The Road to Ever After is Moira Young's first novel for younger readers and has all the hallmarks of a timeless, classic adventure to be enjoyed by generations to come. With beautifully written prose and unforgettable characters, it is a thought-provoking exploration of the importance of death, life - and everything that happens in between.
The Road To Ever After Reader Reviews
Kids love to read and so in addition to the review by one of the Lovereading4kids editorial experts some of our Lovereading4kids Reader Review Panel members were also lucky enough to read and review this title. You can read their full reviews by clicking here.
Toby Little, age 8 - 'I think this book is about making the best of the time you have to live. You'll like this book if you like stories that make you think!
Evie Aconley, age 9 - 'This book is a must read - I would love to read more.'
Bryher Humphryes, age 12 - 'The Road To Ever After by Moira Young is an amazing book with a great fast-paced story.'
Amina - 'I absolutely loved this book it was amazing, intriguing, everything you want from a book.'
Maya Watson - 'I really loved this story of three very different but lonely characters who go on a magical and unforgettable journey together.'
Anya Fuller, age 9 - 'Step into a world of adventure, magic and friendship. I loved this book, once you have read it you will remember it forever.'
Jack Smith - 'The Road to Ever After had its good bits and its bad bits. I felt that the beginning and end kept you intrigued but the middle dragged out.'
Henry Plummer, age 11 - 'Brownvale is full of renaissance angel pictures, and it's David Davy who's the artist. He befriends an old lady but she isn't quite what she seems.'
Rosie Watch - '...once Davy met Miss Flint I was enthralled. I loved their developing friendship and the significance of the wind.'
Ellen Cox, age 9 - 'An amazingly exciting story of a boy and a woman. This book was full of mystery.'
Tom Greenan - age 11 - 'A strange book where lots of weird things happen...I'm sure lots of other people will enjoy the story but it wasn't for me.'
Ruth Ward, Library & Resources Manager, Great Torrington School - 'Beautifully written, with The Road to Ever After Moira Young continues her memorable flourish of story-telling.'
Farah, age 10 - 'It is a little bit sad that the main character David is an orphan but overall it is a very good book.'
Lucy Keaveny, age 11 - 'An intriguing story with a real Christmas feel but somewhat sad as well.'
The Road To Ever After Press Reviews
An elegiac novel, with the poignant elegance of a fading society belle - and some raucous belly laughs along the way Guardian
The story asks readers to accept the miraculous, and rewards them in return with a beautifully written story, full of memorable characters and scenes, and the sense that life can be wonderful if you follow the right road. Books for Keeps
This book sent me on a roller coaster of emotions. Despite shedding tears, I found it to be full of hope as well as being very beautiful and poignant. This is a must read for adults, let alone children! Readingzone
This book is like a warm hug during dangerous times. An ideal book to put in a stocking for Christmas Day. Serendipity Reviews
Every line, every thought, every idea in this magical book about an orphan boy on a remarkable journey of self-discovery has been worked up into an unforgettable modern classic. Beautifully written and imbued with genuine warmth and wisdom. Lancashire Evening Post
If you loved this, you might like these...